Germany president crisis builds as Merkel cancels trip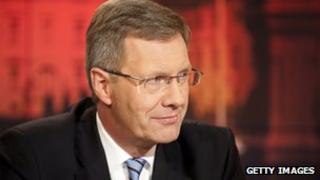 Germany's Chancellor Angela Merkel has cancelled a visit to Italy amid pressure on her political ally President Christian Wulff to resign.
Prosecutors have asked the federal parliament to lift Mr Wulff's immunity over an escalating home loan scandal.
He will make a statement on the affair at 11:00 (10:00 GMT). Mrs Merkel will do so too at 11:30.
Prosecutors in Lower Saxony, where he was previously premier, suspect that he improperly accepted favours.
Mr Wulff, 52, has also been accused of trying to bully a paper not to run the story. He is in Mrs Merkel's centre-right Christian Democrat party, the CDU.
Mrs Merkel had been due to hold talks with Italy's Prime Minister Mario Monti on the eurozone debt crisis and Greece's predicament.
President Wulff - whose primary role is to serve as a moral authority for the nation - denies any wrongdoing.
The widening row is seen by analysts as a blow to Mrs Merkel, who helped Mr Wulff to secure the largely ceremonial office in 2010.
German television says some politicians in Mrs Merkel's ruling coalition, as well as political opponents, have called for Mr Wulff to resign.
Angry message
On Thursday, prosecutors in Hanover, capital of Lower Saxony, said in a statement there were "enough actual indications" that the president had acted improperly.
"Therefore they have asked the president of the German Bundestag [the lower house] to lift the president's immunity."
The move is formally required to start proceedings against Mr Wulff, although this does not mean necessarily that he will be charged.
Mr Wulff's office has not publicly commented on the latest development.
The Bundestag's committee on parliamentary immunity is expected to consider the prosecutors' request at a session starting on 27 February.
At the centre of the row is the story - first published by the Bild newspaper - that Mr Wulff received a low interest 500,000 euro loan (£417,000; $649,000) from the wife of a wealthy businessman in October 2008.
Mr Wulff was later asked in Lower Saxony's parliament if he had had business relations with the businessman, Egon Geerkens, and said he had not, making no mention of his dealings with Mr Geerkens's wife.
The president was also heavily criticised for trying to force Bild not to break the story in the first place.
It has emerged that he left an angry message on Bild chief editor Kai Diekmann's phone, saying the story must not be published.
Mr Wulff has since apologised to Mr Diekmann.
He has also rejected calls for his resignation, saying he plans to serve his five-year term with the record of a good and successful president.