Contempt of court action against Sean Quinn adjourned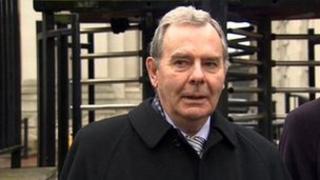 A contempt of court action against Fermanagh businessman Sean Quinn, his son Sean Jnr and his nephew Peter Quinn has been adjourned at Dublin's High Court.
The legal proceedings are being taken by the former Anglo Irish Bank.
The bank, now known as the Irish Bank Resolution Corporation, claims the men are in contempt of court over the alleged transfer of millions of euros in foreign property assets.
The case was adjourned until 22 March.
On Friday, the bank argued the hearing should go ahead as soon as possible, but lawyers for the Quinn family said they needed time to prepare time for their response.
Mr Justice Frank Clarke said the application for a contempt of court hearing was by definition a serious matter.
He said there was a significant degree of urgency that it should be heard but he was giving time for the Quinn family to prepare their case.
Persons found to be in contempt of court can have their property seized or be committed to prison.
The Quinns have said via a spokesperson that they will defend their position vigorously.