Ordinary Russians train to observe presidential vote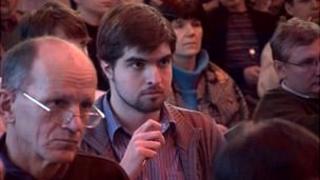 Since the Russian parliamentary election in December, which was widely seen as fraudulent, thousands of people have been volunteering to monitor the presidential vote on 4 March. I went to see how they were being trained.
It is late and getting to a college in the north of Moscow across frozen streets takes some time. But two dozen people are willing to make the effort.
When the lecture finishes, at around ten o'clock in the evening, they will be qualified to work as election observers.
Opposition leaders hope to see volunteers at every polling station in the country.
This will be difficult to achieve throughout Russia but in Moscow, at least, there are already enough activists to cover the city.
Like many others, Igor Kucherov wondered what, beyond attending the rallies, could be done to show his anger at the way the December election was run.
"Doing nothing will change nothing," he says. "We need to come out in numbers, we need to be more responsible, we need to resist vote-rigging, if it does occur."
'Accomplices'
He knows such resistance may lead to unpleasant consequences.
In December, scores of observers were threatened, abused verbally or physically, or expelled from polling stations.
"I know this may happen, but I am ready to deal with it," Mr Kucherov says as he prepares to take his seat in the auditorium.
One vocal opponent of the volunteer observers is controversial opposition figure Eduard Limonov.
Mr Limonov, a leader of the unregistered Another Russia bloc, was barred from taking part in the presidential race after failing to meet Russia's stringent electoral rules.
He accuses the Russian authorities of preparing another electoral fraud and regards anyone taking part - even as a voter or observer - as somehow an accomplice.
He is not impressed by the recent mass protests and points out that the Kremlin has ignored opposition's demands to remove the head of central electoral commission and dissolve the newly-elected parliament.
Asked whether he sees any value in the grassroots activity of the would-be observers, Mr Limonov replies: "The real politics has been supplanted, intentionally, by some kind of silly farce."
New expectations
Whatever the mobilisation of observers achieves on 4 March, experts think the desire of many to be personally involved will not fade away.
Denis Volkov, a sociologist at the respected Levada Centre in Moscow, attributes it to a growing demand for modern political institutions in large Russian cities.
Their populations are more affluent, have access to a variety of opinions on the internet, but are served by the same outdated and opaque political machine as everyone else, says Mr Volkov.
"Grassroots activists in campaigns ranging from ecology to welfare tend to start with local issues and only later realise there are systemic issues which make progress impossible," he says.
He notes that leaders of many such single-issue groups became prominent in the recent protests.
Extra ballot box
Election observers were unable to prevent hundreds of violations during the vote on 4 December, or pursue them in court afterwards.
Videotaped evidence of fraud was dismissed by election officials and law enforcement officials as a fabrication.
It is easy to see how some may conclude that any public control over voting is futile.
All the same, says Natalya Alexeyeva, who worked as an observer on 4 December, the citizens must keep watching.
Her story can be cited by both optimists and pessimists.
After voting ended at her polling station, she discovered that an additional ballot box had been brought in for counting.
Ms Alexeyeva protested and reported a violation.
After many heated arguments, the box was opened and its contents - 250 ballots, all cast for the pro-Kremlin United Russia party - were annulled.
Yet a few hours later, while checking the data on the central election committee website, she saw that United Russia's share of votes at her station had almost tripled.
One way or another, supporters of Prime Minister Vladimir Putin had been given a huge boost at Polling Station No 86 in central Moscow.
On 4 March, Ms Alexeyeva will be observing the work of an election commission which collates results from individual stations in a city district.
She suspects most of the numbers are being tweaked at this level.
"This sounds cliched but there are things that simply must be done," she says.
"We were clearly robbed of our right to elect. This was done so openly, so brazenly. They seem not to regard us as people."
"Staying away," she adds, "would mean encouraging this policy which steals peoples' right to vote."