Greek reaction to second bailout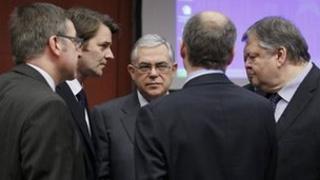 The Greek cabinet is to meet for talks on launching the painful reform process stipulated by creditors in return for a massive bailout and debt write-down .
The Greek government fell last year after ex-Prime Minister George Papandreou called for a referendum on the eurozone rescue package. He was replaced by Mr Papademos, an unelected technocrat who is expected to lead Greece until parliamentary elections in April.
BBC News website readers from Greece talk about the second bailout and the current political situation in their country.
Sofia Stavropoulou, Loutraki
We are all worried today. Most Greeks believe no solid solution has been presented to them by the Greek government.
This situation has happened gradually, over decades.
There has been no provision for sustainable growth. We need growth as it is the key factor for Greece's recovery. If my country is not supported in this way the consequences for both Greece and the EU will be tremendous.
Growth comes from businesses, and there have always been cash flow issues and huge operational costs. We need support from the EU.
This is a big test for the EU to prove if it is righteously called a UNION or not.
Thomas Papadopoulos, Athens
130 billion euros just to kick the can down the road. I don't know what they're trying to do. It's ridiculous.
I have two companies. We build and repair Samsung cell phones. The government owes us a humungous amount of money. They don't pay us back for anything.
We employed 50 people in 2010. Over the last two years we've had to fire half of our people.
I think this money is a waste and so are the trials and tribulations of the Greek people. Nothing of essence has taken place in Greece in the last two and a half years other than the contraction of some pensions and the government saying that the public sector will be smaller in a few years.
Nothing will happen other than the old politicians clinging to the rot they created. Nothing will be worth talking about, other than a proud country being destroyed in the name of global idiosyncrasy. There is nothing positive about it. People are just dazed. Nothing is clear.
Bill Kasiolas, Patras
I am studying Computer Engineering at the University of Patras, in western Greece. There will be a jobs market for me to go into. My parents salaries, however, have been cut by 50% since 2008.
I strongly disagree on this new bailout for my country, since it can only serve and secure the creditors instead of the greek people.
It is unfair what is happening. There is anti-government feeling as people's money has been going into politicians' pockets. They are taking money from people. These negative feelings towards the government have been building over the last couple of years.
Our everyday life in Patras has changed radically since 2008. Patras is a mid-sized city (some 300,000 citizens) which has always suffered from unemployment, but nowadays the local unemployment rate is over 40%! There are homeless people on the streets, sleeping rough in squares or in municipal facilities.
There have also been many cases where little children fainted at school because their families can't afford to feed them properly! There are families without electricity, because they couldn't afford this new extra tax imposed through the Greek Electricity Company.
Lots of local businesses keep firing more and more people and the university funding was cut by 50%, leaving a lot of courses untaught in many faculties and preventing students from graduating on time.
In the building where I live, some families can't afford to pay gas; therefore they have no heating, when the temperature has been extremely low during January and February!
So what should we, as greeks, expect? The prominent opinion is that these bailouts should help the categories of people I described above. Back in 2010, we all said we should accept these cuts in order to save our economy, even if this debt was not created by us, but from the corrupt political system running this country. However, we didn't see any convincing result.