Italy austerity: Cabinet ministers reveal incomes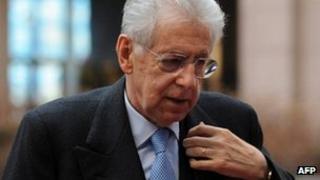 A Harley Davidson motorcycle and some Alpine cabins are among the items disclosed by Italy's cabinet ministers in a gesture of financial transparency.
Members of Prime Minister Mario Monti's technocratic government revealed their finances on a website which proved so popular it quickly crashed.
Justice Minister Paola Severino earned over 7m euros (£5.8; $9m) last year, paying about 4m in taxes.
An open government group welcomed the move in a country dogged by corruption.
It was revealed that
Prime Minister Monti owns 16 houses
Foreign Minister Giulio Terzi owns a Harley Davidson model 2005
Piero Giarda, in charge of relations with parliament, has 10 properties, most of which are mountain shelters and pastures in the Alps
The BBC's Rome correspondent, Alan Johnston, says the development marks a significant break with past, often very murky, traditions in Italy's politics.
The ministers are all unelected professors or other experts in their fields and it is clear from their declarations that most of them lead lives rather far removed from the great mass of Italians, who are now enduring the government's austerity programme, our correspondent says.
But this is the first time an entire Italian cabinet has voluntarily set out its financial interests and campaigners for transparency in government welcomed the move.
"We would like this to become a compulsory thing to do for everyone in politics," Vincenzo Smaldore of the pro-transparency campaigning group Open Polis told BBC News.