Le Pen: Court blow for French far right candidate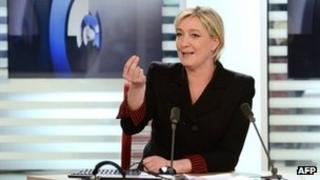 France's top court has rejected a bid by far right candidate Marine Le Pen to grant her supporters anonymity, in a move that threatens her election hopes.
The Constitutional Court rejected her argument that the names of elected officials who endorse a presidential candidate should not be made public.
She is said to be just short of the 500 endorsements needed to stand.
Meanwhile, opinion polls suggest President Nicolas Sarkozy has slashed the lead of rival Francois Hollande.
Two surveys of first-round voting intentions taken this week indicate Mr Sarkozy is between one and two percentage points behind the Socialist challenger - 27% to Mr Hollande's 28/29% - after trailing him by as many as eight points earlier this month.
However, both surveys suggest Mr Hollande would win the second round in May by 12 percentage points - or 56% to 44%.
President Sarkozy finally announced his re-election campaign last week, holding his first big rally in Marseille at the weekend.
Bardot 'outraged'
According to the Ifop and CSA polls, National Front (FN) leader Marine Le Pen would come third in the first round of the election on 22 April on 17%.
However, she must be endorsed by at least 500 mayors or local officials by 16 March in order to appear on the ballot paper at all.
As of Tuesday, she said she had obtained 430 pledges of support.
Correspondents say elected officials may be reluctant to be associated publicly with the National Front, which has lost much of its presence in local authorities despite polling well at national level.
One voice of support for Ms Le Pen, daughter of previous FN leader Jean-Marie Le Pen, was that of former film star Brigitte Bardot.
In a letter to Nice Matin newspaper, the animal rights campaigner said she was "outraged" by the reluctance of French mayors to back a candidate who "defends animals and has the courage to give back our country 'France' [sic] the place it should occupy in the world".
"I ask them to have a bit of courage for once in their lives and, indeed, to do their duty," she wrote.
In other developments in the French election campaign
Mr Sarkozy visited a wholesale food market in Paris to challenge accusations by Ms Le Pen that households in the city are unwittingly eating halal meat
An opinion poll in Le Monde newspaper suggested 46% of schoolteachers in France would back Mr Hollande in the first round
Green candidate Eva Joly raised eyebrows by using crude language about her strained relations with former environment minister Corinne Lepage, who is also bidding to stand in the election on an environmental platform