Dublin children's hospital plans refused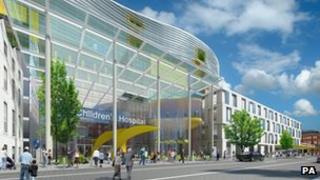 Planning permission has been refused for the proposed National Children's Hospital in Dublin.
The 650m euros hospital was due to be built on the campus of the Mater Hospital on the northside of the city.
The project had been mired in controversy, with objectors concerned about access and public transport links to the site.
Planning board, An Bord Pleanála, said the development would be "a dominant, visually incongruous structure".
It also said the development "would have a profound negative impact on the appearance and visual amenity of the city skyline".
An Bord Pleanála also felt the proposed development would constitute over development of the Mater Hospital site.
Construction was due to be completed by 2016 and it would have been the biggest building project in the Irish state.