Russian jet from Berlin lands safely after wheel scare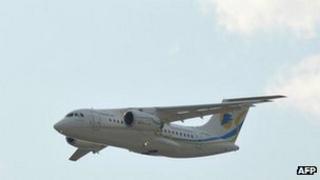 A Russian passenger jet which lost a wheel on take-off from Berlin has landed safely in St Petersburg, Russian media report.
The An-148 passenger jet of Russia's Rossiya airline, reported to be carrying 44 people, landed after circling to use up fuel.
The crew said the people on board had kept calm, Interfax news agency said.
A security source told Ria-Novosti news agency that chunks of rubber were left on the runway at Berlin after take-off.
None of the 37 passengers and seven crew were hurt during the landing, Rossiya's press office told Interfax.
A Russian investigation into the incident is now under way.
Manufactured jointly by Ukraine and Russia, the An-148 only entered service with Rossiya in 2009 and is newer than many other jets flying in the former Soviet Union.