EU foreign ministers recommend Serbia as candidate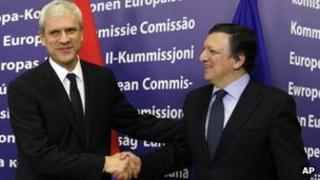 EU foreign ministers meeting have recommended that Serbia be given candidate status to join the 27-member bloc.
A final decision will be made by EU leaders meeting later this week.
The ministers had been expected to confirm Belgrade's candidacy, a key step towards membership, but failed to overcome objections from Romania.
"I am pleased we were able to recommend candidate status," Denmark's Europe Minister Nicolai Wammen told reporters.
Swedish Foreign Minister Carl Bildt tweeted: "Green light for Serbia candidacy status today to be confirmed by European Council on Thursday."
Last week Serbia made some concessions on Kosovo - the breakaway territory which has been a major stumbling block.
But Romania was understood to have raised concerns during Tuesday's foreign ministers' meeting in Brussels about the status of the ethnic Vlach minority in eastern Serbia.
After talks with Serbian President Boris Tadic, European Commission President Jose Manuel Barroso said that he believed Belgrade deserved candidate status and was very close to achieving it.
On Friday Serbia agreed to allow Kosovo to take part in west Balkan regional meetings, despite refusing to recognise its self-declared independence.
An EU proposal to have Kosovo's nameplate at meetings followed by an asterisk was accepted.
This will have a footnote explaining the territory's disputed status.
The two sides also agreed to manage jointly their border, scene of recurrent violence between Nato peacekeepers and ethnic Serbs who make up the majority in northern Kosovo.
Some 80 countries have recognised Kosovo since it declared independence in 2008, but a still larger number have withheld recognition.