Growth problem vexes EU leaders as summit looms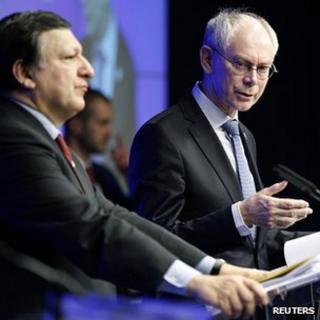 EU leaders hope to agree on measures to get their ailing economies growing again at a Brussels summit on Thursday.
This time Greece may not dominate the talks, as the second Greek bailout has finally been agreed in principle, worth 130bn euros (£110bn; $175bn).
But Germany is not yet willing to boost the eurozone's overall bailout fund to at least 750bn euros.
There is pressure to create such a "firewall" in case a major eurozone economy like Italy needs bailing out.
At the G20 talks in Mexico last weekend finance ministers and central bankers from non-EU countries called for a bigger eurozone firewall, saying it must be done before the International Monetary Fund's lending resources are increased.
But no breakthrough on the firewall is expected at this two-day Brussels summit, EU sources say.
Twenty-five of the 27 leaders are expected to sign thenew fiscal treaty- a set of tough budget rules demanded by Germany, including a "debt brake" written into national constitutions or equivalent national laws.
Only the UK and Czech Republic have opted out. But Ireland announced on Tuesday that it will hold a referendum on the treaty - and it is not clear whether Irish voters will back it.
A "no" vote in Ireland would be a strong signal of public opposition to the EU's austerity policy. And the referendum is likely to be the first real public test of the fiscal treaty.
The treaty will take effect if at least 12 countries formally ratify it, but will not be binding on those which opt out.
The countries signing up to it accept much closer economic integration - and those who do not may find it much harder to get EU loans.
Sense of urgency
The protracted negotiations over Greece and other vulnerable eurozone countries have delayed action on the EU's growth agenda, but now EU leaders say it is time to tackle these issues urgently.
In ajoint letter on 20 FebruaryUK Prime Minister David Cameron and 11 other EU prime ministers spoke of "a perilous moment for economies across Europe".
"Growth has stalled. Unemployment is rising. Citizens and businesses are facing their toughest conditions for years," the letter said. It was addressed to EU Commission President Jose Manuel Barroso and European Council President Herman Van Rompuy.
The Netherlands, Italy, Ireland, Spain and Sweden were among the countries joining the UK in the appeal.
The leaders said strengthening the single market must be a priority, including action to reduce EU regulatory burdens on business.
They highlighted that the service sector accounts for almost four-fifths of the EU economy, "yet there is much that needs to be done to open up services markets on the scale that is needed".
"We must act with urgency, nationally and at the European level, to remove the restrictions that hinder access and competition," they said.
The message was echoed by Mr Barroso, who said "the time has come not to yet again discuss our agenda but to deliver on our agenda".
Only this week the Commission told eight member states that they must liberalise their energy markets or face an EU court case - an example of the EU's single market difficulties.
And a common European patent system, seen as vital for the EU single market, has not been signed off despite some 30 years of discussion about it.
It could save European businesses millions of euros by standardising patents - yet the leaders are still arguing about which capital should host the new patent court.
Global pressures
The EU leaders' discussion of economic strategy will be based on the Commission'sannual growth survey for 2012. It forecasts overall EU growth to be as low as 0.6%, with unemployment levels likely to remain at around 10% in 2012 and into 2013.
The Commission survey says the EU has long been lagging behind global competitors on productivity, "and this productivity gap is widening".
"The Europe-wide market is still too fragmented and does not allow firms to grow," it complains.
More needs to be done to enable venture capital to flow to small businesses across European borders, the Commission says. It also proposes project bonds to stimulate private financing of key European infrastructure projects, such as broadband expansion.
The bonds would provide EU budget support for private investors who might otherwise not take the risk.
Among the priorities for galvanising EU economies it lists:
A real internal market for services
Creation of an EU digital single market
Exploiting opportunities in global trade through free trade agreements.
The summit draft conclusions, seen by the BBC, also speak of the need to boost innovation and research, including completing theEuropean Research Area(ERA) by 2014.
The ERA is a network aimed at harnessing research efforts across Europe, to overcome national barriers.