Czech Republic profile - Leaders
25 December 2015

From the section

Europe
President: Milos Zeman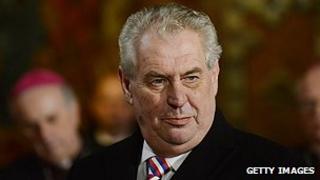 Former prime minister Milos Zeman won the first direct Czech presidential election in January 2013, beating conservative Foreign Minister Karel Schwarzenberg by a margin of 55% to 45%.
Unlike his predecessor, the notoriously euro-sceptic Vaclav Klaus, Mr Zeman describes himself as a euro-federalist and has advocated closer European integration, though he believes that the Czech Republic should take its time over joining the euro.
Like Mr Klaus, Mr Zeman thrives on confrontation and has not hesitated to exercise his presidential authority, even when this has meant entering into conflict with the Czech government.
His appointment of a close ally, Jiri Rusnok, as prime minister following the resignation of Petr Necas in June 2013 met with the fierce opposition of the main political parties, who accused him of staging a power-grab.
Mr Zeman's critics said that the move undermined democracy and accused him of trying to introduce a semi-presidential system, which one outgoing minister from the Necas government described as "Putinesque".
Mr Zeman effectively retired from politics in 2003, after failing to beat Mr Klaus in the election to succeed Vaclav Havel as president. Even his own Social Democratic party split over whether to back him.
Political analysts attribute his spectacular comeback to his harnessing of discontent among older and poorer voters with the Necas government's handling of the economic downturn. But he is less popular with younger and better educated Czechs, who regard his election and subsequent performance with some dismay.
Mr Zeman continues to be a divisive figure, especially on account of his tendency to express his views - which are often at variance with government policy - in colourfully trenchant terms.
He projects himself as a man of the people with humble roots in the Czech provinces, fighting a perpetual battle with what he likes to refer to as "the Prague coffeehouse" - a derogatory term for the metropolitan intellectuals who he regards as being out of touch with the real concerns of ordinary Czechs.
He has irked many people - both within the country and among the Czech Republic's western allies - by defending Russia's stance on Ukraine and by voicing opposition to the western sanctions against Russia.
And he has continued to score populist points against the Social Democrat-led coalition government that came to power following parliamentary elections in the autumn of 2013, suggesting that it should take a tougher line in resisting efforts by the European Union to persuade all member states to accept larger numbers of refugees.
In November 2015, Mr Zeman marked the twenty-sixth anniversary of the 1989 revolution by sharing a platform with an anti-Islamic group - an act that led senior members of the government such as Prime Minister Bohuslav Sobotka and Human Rights Minister Jiri Dienstbier to accuse him of encouraging xenophobia.
Mr Zeman responded to this criticism by saying that he had received a large number of letters from ordinary people calling on him to sack the prime minister, but that "unfortunately" the constitution did not give him the authority to do this.
In his younger days, Mr Zeman was dismissed from various posts because of his criticism of the Communist system's economic failings, and played a prominent part in the Civic Forum movement that helped oust the pro-Soviet government in 1989.
He rose to be Social Democratic prime minister in 1998-2002, but quit the party after his presidential election humiliation the following year. He is now the honorary chairman of the small centre-left Party of Civic Rights, which has two senators but no representatives in the lower chamber of the Czech parliament.
Prime Minister: Bohuslav Sobotka
Social Democratic party leader Bohuslav Sobotka was formally appointed as prime minister by President Zeman in January 2014, almost three months after an early election in October 2013 that was triggered by the fall of the centre-right government led by Petr Necas in June.
Following the abrupt departure of Mr Necas - who had become embroiled in a spying, sex and bribery scandal - President Zeman appointed his former economic adviser, Jiri Rusnok, to head a government of experts.
However, Mr Rusnok's administration was deeply resented by the main political parties, who contended that the president's action was intended to undermine the authority of parliament, and after the new caretaker government failed to win a confidence vote in August, MPs voted to dissolve parliament, paving the way for the October election.
The Social Democrats emerged from these elections as the party with the greatest number of votes, but not enough to govern on its own. Following protracted efforts to assemble a viable government, the Social Democrats reached a framework coalition agreement with two other parties - the pro-business ANO party led by billionaire Andrej Babis and the Christian Democrats - in December.
Talks on the allocation of ministerial portfolios were further complicated by President Zeman's insistence on being consulted, and by the fact that Mr Sobotka belongs to the Social Democrat faction that parted company with Mr Zeman in the early 2000s.
Analysts attributed Mr Zeman's apparent foot-dragging over the confirmation of Mr Sobotka as prime minister to deep-rooted tensions between the two men.
On his appointment, Mr Sobotka pledged to end the political gridlock that had paralysed policy making for seven months and revive economic growth following the country's longest recession on record.
He promised to boost the economy by reversing what he has described as the former centre-right government's "deadly spiral" of austerity measures.
Mr Sobotka also expressed a desire to see the Czech Republic play a fuller role in EU politics, after the euro-sceptic course pursued by centre-right governments for most of the previous decade.
He has been much more supportive of the EU line on Ukraine than President Zeman. Although he initially expressed some reservations over the sanctions against Russia, he eventually gave his backing to them.
He expressed serious reservations over EU proposals for introducing a quota system to distribute refugees across the bloc in response to the massive increase in 2015 in the number of migrants arriving in Europe. However, he has also criticised President Zeman for suggesting that refugees are not welcome in the Czech Republic at all, and has shown himself to be rather more sympathetic to the migrants' plight.
Mr Sobotka was born in the Moravian village of Telnice in 1971. A trained lawyer, he has been a member of parliament since 1996 and served as finance minister in 2002-6. He joined the Social Democrats in 1989 and has led the party since 2011.