Greece factory siege ends as gunman surrenders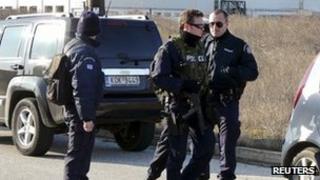 A gunman who wounded two people and took another two hostage at a wheelie bin factory in northern Greece has surrendered, police say.
The man had recently lost his job at the Helesi factory in Komotini.
The two people injured - the factory manager and an employee - were taken to hospital where their lives are said not to be in danger. The hostages were both company drivers, reports say.
Helesi recently shed jobs amid the ongoing recession in Greece.
The unemployed man, who was dismissed from the factory eight months ago, burst into the building with a gun, firing at the manager and another employee.
Police then surrounded the site and began negotiating with the gunman.
He released the two hostages unharmed after about 12 hours and handed himself in.
The motive of the attack is not clear. The gunman, said to be aged 61, had reportedly been armed with a hunting rifle.
The factory's management said in a statement that the man, who had worked for the company since 2000, was dismissed "for an unstable, unfit and transgressive attitude", AFP news agency reports.
Helesi, which stands for Hellenic Environmental Systems Industry, recently dismissed about half of its 300 employees, a police source told AFP.
The company has been producing wheelie bins at Komotini since 2000, exporting them to other parts of the EU.