France profile - Leaders
President-elect: Emmanuel Macron
A formereconomy minister who has never held elected office before, Emmanuel Macron won the 2017 presidential election run-off by a decisive margin over his far-right challenger Marine Le Pen.The 39-year-old former banker launched an independent campaign for the presidency little over a year before the election, and his En Marche! movement galvanised enough support from the centre-right and left to knock the traditional Socialist and Republican party candidates out in the first round of voting.
He campaigned on a programme of modernising France's sluggish economy, streamlining the bureaucracy and cutting unemployment, but for many his primary purpose was to stop Ms Le Pen's anti-European-Union, anti-immigrant, populist National Front. A large number of voters abstained or spoiled their ballot papers, and a full third voted for the National Front, suggesting the President Macron will face a challenge in uniting the country.
He served as economy minister in the cabinet of his Socialist predecessor Francois Hollande in 2014-2016, but resigned in disillusionment with the government's failure to back his pro-market policies.
After taking office later in May, Mr Macron will have only a month to turn En Marche! into a political party capable of winning a majority in June's parliamentary elections.
President: Francois Hollande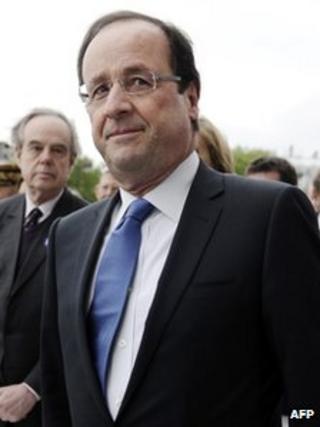 Francois Hollande beat the conservative incumbent, Nicolas Sarkozy, in May 2012 to become France's first Socialist president since Francois Mitterrand in 1981-1995.
Despite coming from his party's moderate win, Mr Hollande campaigned on strongly left-wing proposals, including a 75% top income tax rate, 60,000 new teachers, and the renegotiation of the European Union fiscal growth pact.
His Socialists went on to win a comfortable majority in the June 2012 parliamentary elections.
But by the end of 2012 Mr Hollande's economic plans were in trouble, with growth stagnant and the continuing woes of the eurozone promising no relief.
France continued to dip in and out of recession throughout the next year, and Mr Hollande's failure to make good on his promise to reduce unemployment by the end of 2013 left him with one of the lowest approval ratings of any post-war French president.
He switched to a more business-friendly approach, and further alienated his core left-wing support by attempting to reform France's labour laws - bringing thousands out onto the streets in protest early in 2016.
Facing more criticism over the governments failure to prevent a series of high-profile terror attacks by Islamic State supporters, he announced he would not stand for a second term at the 2017 presidential elections.
Austerity measures
Mr Hollande also came under pressure from Brussels, with the European Commission urging France to reduce its budget deficit and bring down public spending - the highest per capita in Europe.
But his policy of raising taxes rather than cutting spending to bring down France's big deficit - while popular with his own supporters - was increasingly resented by the wider public.
On the international stage, Mr Hollande has taken a strong lead in pushing for a more interventionist approach towards shoring up states threatened with destabilisation.
In January 2013, he sent troops to Mali to help government regain control over the north of the country from Islamist militants, and in December he deployed additional peacekeepers to the Central African Republic to help restore order after a rebel takeover.
In September 2015 President Hollande extended French air strikes against Islamic State targets in Iraq to Syria, citing determination to act against any threat to national security.
Born in 1954 in Rouen, Normandy, and a product of the "grandes ecoles" elite education system, Mr Hollande was an economic advisor to President Mitterrand, and became an MP in 1988.
He rose to lead the Socialist party in the long years of opposition in 1997-2008, then resigned as first secretary in the wake of a row over the failed 2007 presidential campaign of his then long-standing partner, Segolene Royal.
Prime minister: Bernard Cazeneuve
President Hollande promoted Interior Minister Cazeneuve to the premiership in December 2016, when Manuel Valls resigned to concentrate on his own ultimately-unsuccessful bid to be Socialist presidential election candidate.
A lawyer and former mayor of the Normandy port of Cherbourg, Mr Cazeneuve served as European affairs and budget minister before taking over at the interior ministry in 2014.
His watch there saw France suffer several terror attacks by Islamic State sympathisers, and his calm and firm response won him considerable public respect.
He is one of President Hollande's loyalist colleagues, and will oversee the remaining months until presidential and parliamentary elections in mid-2017.
Manuel Valls was Mr Cazeneuve's predecessor at the interior ministry, and moved to the premiership in 2014 to promote a more business-friendly approach to boost the stagnant economy.
His use of a rarely-invoked article of the constitution to bypass parliament over labour reform in 2016 sparked weeks of sometimes violent protests across the country, and met with fierce opposition from both the far left and the conservative opposition in the National Assembly.