Germany profile - Leaders
15 January 2016

From the section

Europe
Chancellor: Angela Merkel
Angela Merkel, Germany's first female chancellor, won a third term in September 2013, leading her conservative Christian Democrats (CDU) to victory and only narrowly failing to secure an outright majority.
The CDU's election campaign focused on Mrs Merkel's image as a safe pair of hands amid financial turmoil in Europe.
Her coalition partner since 2009, the small pro-business Free Democrats (FDP), failed to win any seats in the election, so the chancellor formed a pact with her Christian Social Union allies and the centre-left Social Democratic Party (SPD) - in a re-run of the "grand coalition" she had formed on first becoming chancellor in 2005.
In 2009, her party had formed an alliance with the FDP after winning enough votes to dump the previous coalition with the SPD.
The 2008 global economic crisis left Ms Merkel having to tread a fine line between helping debt-laden eurozone countries in a bid to preserve the common currency, and provoking a potential popular backlash at home against Germany - as the eurozone's richest country - over having to make huge contributions to bailouts.She faced a serious challenge to her leadership in the autumn of 2015, after offering temporary asylum to refugees fleeing turmoil in Syria. The subsequent mass movement of people through the Balkans towards Germany stretched the European Union's Schengen Agreement on abolition of border controls to breaking point in many countries en route. Then sex attacks on hundreds of women in Cologne and other German cities during New Year celebrations by men largely of North African or Arab appearance prompted a public backlash against her policy, leaving her vulnerable to party critics as they prepared for the 2017 federal elections.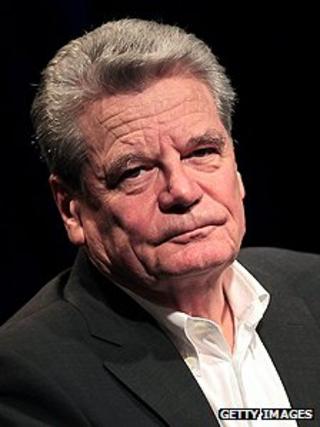 President: Joachim Gauck
Joachim Gauck, a human-rights campaigner and former East German dissident, was elected to the largely ceremonial presidency in March 2012.
The opposition Social Democrats and Greens nominated him after the resignation of President Christian Wulff in February over a housing loan scandal, and the governing centre-right coalition parties agreed to support him in the Federal Assembly - the electoral body tasked with choosing the president.
Born in Rostock in 1940, Mr Gauck, like the Christian Democrat chancellor, Angela Merkel, has a background in the Lutheran Church in East Germany - he was a pastor there, as was Mrs Merkel's father.
An active anti-Communist from an early age whose father was exiled to a Soviet forced-labour camp for several years, Mr Gauck was a leader of the opposition New Forum in the last days of the East German dictatorship.
He served in the first and last democratic East German parliament, which put him in charge of investigating the archives of the Stasi secret police. He continued this task after the reunification of Germany.
Mr Gauck describes himself as a "liberal left conservative", and has expressed support for the policies of both centre-right and centre-left governments.