Ireland garlic scam: Paul Begley jailed for six years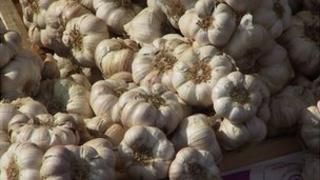 The head of Ireland's largest fruit and vegetable producers has been jailed for six years for a 1.6m euros (£1.3m) scam involving the importation of garlic.
Paul Begley, 46, of Woodlock, Redgap, Rathcoole, avoided paying customs duty on more than 1,000 tonnes of garlic from China by having them labelled as apples.
Dublin Circuit Criminal Court heard the import duty on garlic is "inexplicably" high and can be up to 232%.
Onions have an import duty of 9%.
The maximum sentence for the offence is five years in prison or a fine of three times the value of the goods.
Judge Martin Nolan imposed the maximum term on one count and one year on another count.
These are to run consecutively, meaning a total of six years.
"It gives me no joy at all to jail a decent man," Judge Nolan said.
He said Begley was a "success story" and an "asset to the country" in supporting the economy and providing employment.
He noted Begley's generosity and that he donated money to homeless charities and St Vincent de Paul.
However, the judge said he had engaged in a "grave" and "huge" tax evasion scheme.
Deterrent
He said the import tax on garlic "may or may not" be excessive, but that was for the Irish government to decide and not individuals.
The judge said he had to impose a significant jail term because as such offences were hard to uncover, the only effective deterrence was a lengthy prison terms for those who were caught.
Begley pleaded guilty to four counts of evading customs duty between September 2003 and October 2007.
The scam was uncovered on 9 October 2007 when customs officers at Dublin Port investigated a container that was thought to contain 18 tonnes of apples and two tonnes of garlic.
When they looked inside they found 21 tonnes of garlic and no apples.
Following the find, revenue staff began an investigation into previous imports by the company.
During a search of the headquarters, officers seized a series of emails between Begley and his garlic supplier in China which were exchanged over the course of four years.
The emails told the supplier to falsify the importation documents to describe the shipments as apples rather than garlic.