Eight police escorts hurt in Belgian 'suicide bid'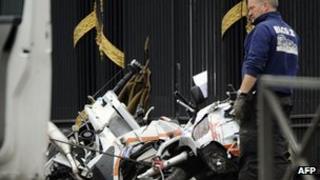 Eight police motorcycle escorts have been injured after a car ploughed into them in Brussels in what officials say was an attempted suicide.
The incident took place outside the royal palace in Laeken, on the edge of the Belgian capital, where the police were waiting for the Qatari ambassador.
A police spokesman said the driver, who has not been named, told officials he had wanted to kill himself.
Prosecutors said the incident was an attempted murder, AFP reports.
A palace official said the car which drove into the motorcycles had Belgian number plates.
At least three of those injured in the incident were said to be seriously hurt. The man who was driving the car was also injured and taken to hospital.
The city's mayor, Freddy Thielemans, said the incident was not terrorism-related.
"I can understand that someone wants to commit suicide, but by killing or trying to kill eight people is beyond my understanding," he told RTL television.
The Qatari ambassador was reported to be inside the palace with Belgium King Albert II at the time of the crash.