French far-right leader Le Pen looks west for votes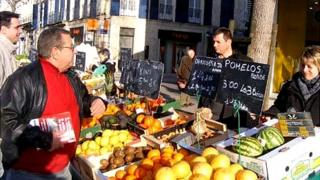 On a bright, cold morning in the French port city of Rochefort, four National Front (FN) activists gather at the central marketplace to spread the message for their presidential election candidate, Marine Le Pen.
The far-right leader boasts 15-18% support in opinion polls nationally - forcing President Nicolas Sarkozy to ramp up the anti-immigration rhetoric. But until now the FN has struggled to make an impact in this part of western France.
"Let's do away with dictatorship in France," says Joan Desire, one of the four party activists, as he hands out leaflets.
The response is mixed at best. Some traders are sympathetic. "There are enough foreigners in the country," says one.
Samuel Bon, a 22-year-old fruit seller, agrees that radical change is needed: "We must stop supporting those who do not want to do anything and help those who want to do something."
But among customers, few appear drawn to the FN's populist, anti-immigration stance. "Whatever happens I will not vote for Le Pen," says one woman.
Another listens politely to Mr Desire, but shakes her head: "I won't give her my vote because she is against foreigners," she says.
Yvon Moinet, a 65-year-old pensioner, says he is "fed up with all politicians, including Le Pen".
One shopper hands back the FN's leaflet saying: "It's wasted on me." Others are blunter: "Not THAT!"
Tough sell
Such a reception is hardly surprising in an area that has never been fertile ground for the FN.
"The whole Atlantic seaboard from Normandy to the Pyrenees is missionary territory for the National Front," says local party leader Jean-Marc de Lacoste-Lareymondie.
Those largely rural regions have few migrants. The Front's core issues - immigration, crime, de-industrialisation - resonate less there than in the working class suburbs of northern, southern and eastern cities.
In Mr de Lacoste's own department, Charente-Maritime, towns like La Rochelle and Rochefort are dominated by the centre-left, while the mainstream right controls the surrounding countryside.
Yet Mr de Lacoste is hopeful his party can make a breakthrough in the area.
He notes that the party made "giant strides" at local polls a year ago. Although none of its candidates was elected, two reached the second round and ended up with about 30% of the vote in their respective areas.
To see how the FN can punch above its weight beyond its natural strongholds, take a closer look at Marine Le Pen's foot soldiers in Rochefort.
After an hour of largely futile campaigning, Mr Desire says: "This is not working. The marketplace is full of people who get a pension: they no longer have problems."
The FN's team decide to move on to the job centre, a squat, low-rise building on the outskirts of town.
As a man walks past, Mr Desire hands him a leaflet: "Let's do away with unemployment in France!" The man snaps back: "I'll believe it when I see it."
But despite such scepticism, others - perhaps as many as half of the people who file in and out of the job centre - are clearly receptive to the FN's main message: that welfare benefits should be reserved to French people.
One unemployed man says: "I agree with you. I will give my vote to Marine Le Pen."
'Leave the country'
Many at the job centre were happy discussing their problems with the FN team.
A woman, who identifies herself as Madame Bernard, is worried that she will not get enough to live on as a pensioner because she has not worked enough years.
Mr Desire offers some advice: "If I were you, madam, I would give up my French citizenship, leave the country, then cross the border again and claim pension benefits as a foreigner."
Every legal migrant over the age of 65 is entitled to France's means-tested national minimum pension of more than 700-euros a month (£600; $920), Mr Desire explains - without specifying why Madame Bernard would not qualify for it as a French citizen.
"So what do I do?" asks a startled Madame Bernard. "The first thing is to give up your French nationality," Mr Desire says, in complete seriousness.
"Where do I do that?"
Another man, Janick Botton, 60, supports the FN's strong stance against French companies taking jobs abroad.
"Nobody is talking about a factory that Renault built in Morocco," he says. "No wonder businesses are folding in Rochefort." Other candidates are doing nothing about it, Mr Botton says, so he will vote for Ms Le Pen.
At the end of a morning's campaigning, Mr Desire feels the effort has paid off. "We need to focus on the disaffection of people hit by hardship and go to every job centre in the area," he says.
Quiet support
Mr de Lacoste, the overall FN boss in the Charente-Maritime, agrees that unemployment, rising costs of living and poverty, are crucial themes for the party in the area.
Even in a left-wing bastion such as La Rochelle, tough economic times can translate into vote for the far right.
In the bleak suburb of Mireuil - home to the city's only mosque - the FN has no overt presence.
"We don't see them around here," says Jean-Jacques Lamy, an unemployed 48-year-old, puffing away in an old-style cafe where smoking bans clearly do not apply. "You can't be a racist and live in a neighbourhood like this."
This may be so, but the FN does have its quiet supporters in Mireuil. One is Cedric, a 27-year-old father of one whose unemployment allowance is about to run out. "I've had enough," he says. "Foreigners can live on benefits and we're having ours cut."
In another deprived suburb of La Rochelle, Villeneuve-les-Salines, butcher Marwan el-Antri senses that some residents are attracted to Ms Le Pen - particularly since she spoke out against what she said was the ubiquitous use of halal meat.
"I have never met people who openly support the FN," Mr Antri says. "But some customers tell me that they know people who don't come here because I only sell halal."
Protest vote
Ms Le Pen's main hope, Mr de Lacoste says, is to poach enough votes from Mr Sarkozy to become the right-wing candidate in the second round, facing Socialist Francois Hollande.
More than five weeks before voting starts, this outcome appears unlikely.
But as France remains in the economic doldrums - with a deepening euro crisis and unemployment stuck around 10% - the FN is capitalising on rising discontent.
Mr de Lacoste says the president is showing signs of desperation. "His latest campaign themes are word for word those of the National Front," he points out.
This strategy was successful in the last presidential election of 2007, when Mr Sarkozy took many votes from the FN.
But now, Mr de Lacoste says, the tables are turned: "He has kept none of his promises. We believed it has worked once, but it won't work this time round."