Belgium coach crash parents' agony at Leuven school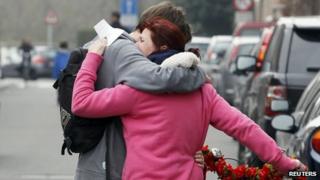 The St Lambertus Catholic junior school is a small school in a quiet neighbourhood in a suburb of the city of Leuven.
This year, like every year, the senior class - 12-year-old boys and girls - left for a skiing trip in the Swiss Alps.
One can imagine the children's pride and happiness - perhaps for many the first time they were away from home for such a long period of time.
Tonight, one struggles to comprehend the grief and the anguish of their parents and families.
They will have prepared for bed on Tuesday night, having had a last phone call from their children in Switzerland.
Many will have read the last blog written shortly by the accompanying teacher before they boarded the bus - looking forward to the reunions back in Belgium.
And then the phone call in the night.
In the morning the families gathered at the school in an agony of not-knowing.
Twenty-four children from St Lambertus were on the trip, as well as a teacher and a much-loved woman in her 70s who often accompanied the pupils on excursions.
Both adults were known to have died. Many children too - but no-one could be sure whose.
Eventually, 16 children were identified as being still alive. That meant eight unaccounted for. But did that mean all eight were dead?
Reports from Switzerland spoke of two of the injured also being unidentified. So for families with no news, there was still a tiny scintilla of hope.
"The contrasting emotions were very stark," said Father Dirk De Gendt, the local parish priest who was at the school during the morning.
"On the one hand, there were parents who found their children were still alive.
"Maybe their legs were broken, or they had some other injury - but it didn't matter. The parents were overjoyed.
"But next to them were the other parents who had no news. They could only fear the worst."
'Shock and devastation'
Father Dirk had been preparing many of the boys and girls for their first communion in the spring. He knew the families well.
"All you can do is be there. Hold them, weep with them.
"Words are useless. All you can do is communicate the fact that there are other humans around them who care," he said.
The parents were flown to Switzerland in the afternoon.
At the school, special classes were held - with teachers and psychologists explaining what had happened.
Children made drawings and other tributes, which were posted by the front gates.
"It is a feeling of shock and of devastation," said the town's mayor Louis Tobback.
"And scandal. It is an existential scandal.
"How can so many young friends die together like this?"