Greece country profile - Overview
25 February 2015

From the section

Europe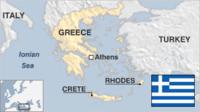 The historical and cultural heritage of Greece continues to resonate throughout the modern Western world - in its literature, art, philosophy and politics.
Situated in the far south of the Balkan peninsula, Greece combines the towering mountains of the mainland with over 1,400 islands, the largest of which is Crete.
Post-World War II Greece saw rapid economic and social change, with tourism and shipping becoming major contributors to the economy.
The global financial crisis of the late 2000s hit Greece particularly hard, as the legacy of high public spending and widespread tax evasion combined with the credit crunch and the resulting recession to leave the country with a crippling debt burden.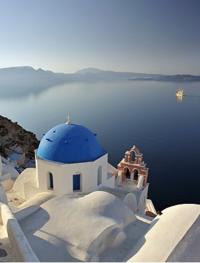 In 2010-11, amid fears of an imminent default and of the debt contagion spreading to other countries, Greece's fellow eurozone countries agreed two bailouts totalling some 240bn euros.
Six straight years of recession since 2008 reduced the economy by about a quarter of its previous size and drove unemployment to record levels.
The outlook for recovery improved in 2014, with investor sentiment up, and the government announcing an expected return to growth and some cuts in austerity taxes.
A new anti-austerity coalition elected in 2015 has vowed to renegotiate the EU-IMF bailouts, and possibly gain a major debt write-off, but eurozone creditors - especially Germany - showed little willingness to compromise.
International relations
Greece has long been at odds with its close neighbour, Turkey, over territorial disputes in the Aegean and the divided island of Cyprus.
Relations warmed after both countries suffered earthquakes in 1999 and offered each other practical help.
Greece has been in dispute since the early 1990s with the Former Yugoslav Republic of Macedonia. Greece contends that the use of the name Macedonia by the neighbouring country implies a territorial claim over Greece's own region of the same name. The UN is involved in continuing mediation efforts.
Athens stepped into the global spotlight when the Olympic Games returned home in 2004. The games were hailed as a success, despite widely publicised fears that the infrastructure would not be complete in time.