Austria profile - Leaders
President (outgoing): Heinz Fischer
President-elect: Alexander Van der Bellen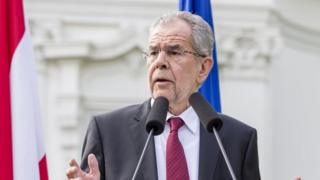 Alexander van der Bellen made headlines across Europe when he won the largely ceremonial presidency in an extremely tight run-off vote against Norbert Hofer, of the far-right Freedom Party, in May 2012.
However, the election will need to be re-run after Mr Hofer successfully challenged the result.
The potential election of Europe's first far-right leader since World War Two had drawn an unusual level of media attention to an election dominated by the migration issue and widespread disenchantment with the political establishment.
The elimination of the candidates of both the two traditionally dominant centrist parties - the Social Democrats and People's Party - in the first round had left Mr Van der Bellen - a Green standing as an independent - as the only mainstream candidate.
Born in Vienna in 1944 into a former Russian aristocratic family who had fled Estonia after its invasion by the Stalinist Soviet Union a few years earlier, he has often called himself a "child of refugees".
The trained economist is known as "Sascha" - an affectionate form of Alexander in Russian - in a reference to his background.
He replaces Heinz Fischer, a Social Democrat committed to the welfare state and Austrian neutrality who was elected president in 2004 and again 2010.
Chancellor: Christian Kern
Christian Kern was sworn in as federal chancellor and chairman of the Social Democratic Party of Austria (SPO) on 17 May 2016, following the resignation of Werner Faymann after a string of poor election results.
As CEO of the Austrian Federal Railways (OeBB), Mr Kern oversaw the mass transit of refugees by rail in 2015 and was later named in a lawsuit launched by the Freedom Party against top government officials over their alleged failure to protect Austria's borders against "the influx" of migrants.
Mr Kern's biggest challenge will be whether to abandon his party's 30-year block on cooperating with the eurosceptic and anti-immigrant Freedom Party. He also needs to revitalise the SPO's relationship with its coalition partner the centre-right People's Party (OeVP) and agree on structural reforms to reinvigorate Austria's economy.
He joined the SPO as a young man, climbing the ranks before moving to the Verbund energy firm in 1997 and the national rail company in 2010. He also sits on the board of trustees of FK Austria Wien football club.
From a working class district in Vienna, he was the first in his family to graduate from high school. Dubbed a "pinstripes socialist" by the German broadcaster ARD, he is known for his sartorial style and eloquence.