Austria profile - Leaders
26 February 2015

From the section

Europe
President: Heinz Fischer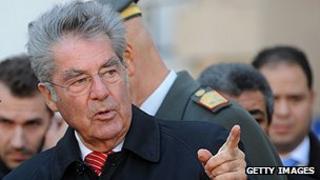 Heinz Fischer, a centrist politician committed to the welfare state and Austrian neutrality, was elected to the largely ceremonial presidency in April 2004 and again 2010.
In the 2010 poll he warded off a challenge by Barbara Rosenkranz of the anti-foreigner and anti-European Union Freedom.
He has spent most of his life in politics. After graduating with a law degree from the University of Vienna in 1961, he took a position in the Social Democratic Party (SPO), entering parliament as a deputy in 1971 and staying on until 2004.
During this time, he served as science and research minister between 1983 and 1987, before being elected parliamentary president in 1990. He was re-elected three times.
Between 1992 and 2004, he was also a vice-president of the European Socialist Party.
Once in office, he officially renounced any party membership to become independent.
He has expressed doubts over the wisdom of tightening EU sanctions against Russia over the Ukraine crisis, and welcomed his Russian counterpart Vladimir Putin on a visit to Vienna in June 2014, when Austria was the first European country to host Mr Putin as an official guest after Russia's annexation of Crimea.
Chancellor: Werner Faymann
The ruling coalition parties which have governed Austria for much of its post-war history won enough votes in the September 2013 elections to govern again, though with a reduced majority.
The combined vote for Chancellor Werner Faymann's Social Democrats (SPO) and their conservative coalition partners, the People's Party (OVP), was just under 51%.
The eurosceptic and anti-immigrant Freedom Party increased its share of the vote, winning 21%.
The conservative leader, Michael Spindelegger, described the result as "a wake-up call".
Nearly a year into its new term, the government was hit by a row over tax policy which led to the sudden resignation of Mr Spindelegger as OVP leader and finance minister.
He was replaced as OVP head by Economy Minister Reinhold Mitterlehner.
Mr Faymann is a former Vienna city councillor and was transport and infrastructure minister in the cabinet of his predecessor, Alfred Gusenbauer. He is seen as a pragmatist with a populist streak.