Monti meets unions in bid to reform Italian labour law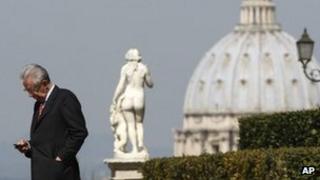 Prime Minister Mario Monti of Italy has begun tough talks with unions on labour law reform in what is seen as a test of his ability to rescue the economy.
The unions have fiercely defended a rule which protects workers in larger companies from being sacked.
Mr Monti proposes to soften Article 18 while offering employers incentives for hiring workers permanently.
His reform is meant to boost jobs and competitiveness while shielding Italy from the eurozone debt crisis.
However, the leader of the left-wing CGIL union, Susanna Camusso, accused the government of seeking to make it easy for employers to sack workers.
The CGIL is involved in the talks in Rome, along with the more moderate CISL and UIL.
'Within reach'
Mr Monti's technocratic government wants a deal by the end of this week but has said it is ready to defy the unions and push the reforms through parliament if no agreement is reached.
The labour rules have been blamed for creating a two-tier system familiar across southern Europe, where older staff monopolise protected positions and the young are either left unemployed or stranded in precarious short-term contracts, Reuters news agency notes.
Corrado Passera, the Italian industry minister, said an agreement was "within reach".
Mr Monti argues that Italy has a "dual" labour market that gives too much job protection to regular, salaried employees in companies with more than 15 staff but virtually none to those in small firms and on temporary contracts.
Around 90% of first-time contracts are short-term ones that allow employers to pay lower taxes and welfare contributions.
Unions accuse employers of abusing temporary contracts but employers defend the practice on the grounds that laying off permanent staff is too difficult if the business climate worsens.