France shootings: Living in Toulouse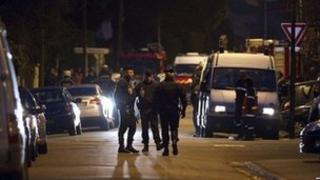 A police siege in the French city of Toulouse has ended with a man suspected of killing seven people now dead, the French interior minister has said.
Mohammed Merah is suspected of killing seven people in three separate attacks.
People living in Toulouse describe the atmosphere in the city.
Cynthia Johnson
I live in the centre of the city about 700m from the Jewish school where three children and an adult were shot and two miles from the siege.
My friends were cycling past the school when it happened; they said they heard shots, followed by screams. We live very near the police and fire stations so we heard sirens coming from every direction.
We have Jewish neighbours and as soon as they heard the news they went straight there to help.
Even though we are in the centre of the city there was no lockdown here. There is a higher military presence outside the local synagogue.
I would say there is a tension on the metro and a general subdued atmosphere but normal life goes on.
These events follow an extremely tense debate here in France over the selling of halal meat in schools. I am American but have lived in France for 10 years.
I do not in any way condone the actions of this man but I do not think it is just a simple case of Islamic fundamentalism.
If you are not French living it France it is very hard. You have to fit into the French mould and hide any differences you have, whether that is your culture, religion or colour.
It is very hard for young people to get work here and I think this disenfranchised kid felt the pressure of living here and therefore became influenced by some very bad, extreme people.
Anytime anyone in the Jewish community is hurt everyone feels it. There is a worry there will be big repercussions from this such as giving a major boost to the far right.
James Stocks
I live near the school where the shooting happened on Monday, and the atmosphere in the area and across the city is very tense.
We are inundated with military, police, journalists and helicopters overhead and countless extra security checks. Toulouse has gone crazy.
Obviously it is mainly concentrated around the area where the siege was taking place but the security has been stepped up massively over the last couple of days generally.
There are hundreds of armed military and police around the metro as you try to get to work. Security checks have also been put in place outside workplaces.
People have been told to stay indoors and no one wants to come outside. The restaurants and cafes are all very quiet. It must really be costing local businesses.
We just want to get back to normal.