Unhappy passenger hijacks tram in Bratislava, Slovakia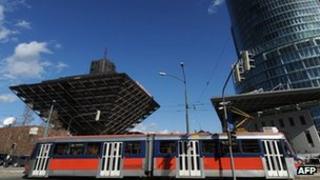 Police are seeking a man who hijacked a tram with a gun in the Slovak capital Bratislava after complaining it was going in the wrong direction.
The passenger, who was with a male companion, pulled a gun on the driver who met his demand by letting the pair off near a city square, police said.
A change in tram routes this week may have caused confusion.
"People will have to get used to [it] unless hijacking the tram is their intention," a local paper remarked.
The Daily added the incident had happened on the No 9 tram on Thursday morning.
As a result, the driver let the men off near SNP [Slovak National Uprising] Square.
Police are looking for two men aged around 30, about 180cm (5'11") tall and wearing dark jackets.
Nobody was hurt in the incident, the Bratislava Transport Authority told AFP news agency.
The driver called the police while the gunman and his companion were still on the tram but the pair escaped before they arrived.