Passenger seeks ash cloud payment from Ryanair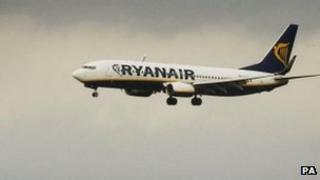 An Irish passenger whose flight was cancelled because of the volcanic ash cloud is a step closer to getting compensation.
Denise McDonagh said that during her seven-day wait for a Ryanair flight from Faro to Dublin she spent £1,000 on accommodation, food, and transport.
Airlines are obliged to help passengers under extraordinary circumstances.
However, Ryanair argues that the volcanic eruption was so extraordinary that normal rules should not apply.
Judges at the European Court of Justice have been advised by their advocate general that the law does not make such a distinction.
Much of north Europe's airspace was closed for more than a week in April 2010, as an Icelandic volcano spewed dust into the atmosphere.
Aviation officials feared the dust could stop the engines of an aeroplane. Ms McDonagh was among the thousands stranded with no way of getting home.
She said since Ryanair did not provide care for her, as required under European Union law, the company should pay her bill.
The court will deliver its final verdict later this year.