Struggling French shopkeepers wary of candidates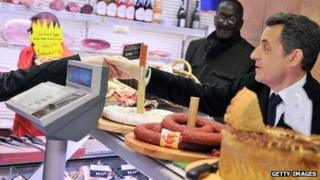 When French President Nicolas Sarkozy announced his bid for re-election in February, he first called on a delicatessen, a chocolate shop and a fishmonger in a provincial town.
This campaign launch was a testament not just to the numerical power of France's shopkeepers - there are 1.2 million of them - but also to their hold on the national psyche. A true Frenchman buys his bread at the "boulanger" and his cheese at the "fromager" - or at least likes to think he does.
But for all the electioneering ahead of next month's presidential poll, shopkeepers feel neglected by politicians.
"Candidates come to see us at election time," says Christine Puig, who runs a coffee shop in the eastern city of Nancy. "They listen a bit to what we are saying, but afterwards nothing happens."
Richard Paties, who sells jewellery on Nancy's central market, sums up the general feeling: "We're no longer on the map."
Let down
On high streets up and down the country, much of the disillusionment is directed at the incumbent. "We have been very disappointed in Nicolas Sarkozy," says Jack le Clainche, vice-president of Cidunati, a national union for independent businesses.
During his first campaign five years ago Mr Sarkozy's straight-talking style and focus on hard work - "work more to earn more" - won over many shopkeepers.
"But all we've had is empty words," says Mr Le Clainche. "He said one thing in 2007 and did the opposite."
Mr Sarkozy raised hopes among small businesses by promising a lighter regulatory touch and a lower tax burden. He proceeded by abolishing the "professional tax", one of the main business levies, and by lowering employers' social contributions.
But Nancy's shopkeepers are unimpressed.
"When they announced they were scrapping the professional tax, I thought 'Wonderful!'" Ms Puig says. "But then guess what! They replaced it with another tax. It has another name, the form is a different colour. And the new one is costing me more than the old professional tax!"
And social contributions paid by employers remain sky-high by EU standards - typically 40% of an employee's wage.
"We still pay the same amount in social contributions as before," shrugs Audrey Thouvenin, who runs a trendy wine outlet in Nancy.
Meddling bureaucracy
A few shops down the road, baker Valerie Grandmaire has seen no significant drop either.
She points out that if an employee's social contributions are added to the employer's, the total amounts to 52% of wages. In Britain, by comparison, the combined contributions on a typical salary are half of this.
As a result, Ms Grandmaire struggles to fill bakery jobs that entail anti-social hours. "We want to hire people, but labour costs are a big curb," she says.
Neither have Nancy's small businesses seen much in the way of deregulation under Mr Sarkozy.
Take the case of Patrick Barbieri, owner of a popular Italian restaurant in central Nancy who has recently taken over an old shop to open a second one.
"It's a real hassle," he says. Every little decision in the renovation work must be cleared with various busybodies.
When he proposed to install a half-glass front door to allow passers-by to look in, officials in Paris insisted on a solid wooden door similar to that of the original business, which closed three decades ago.
"The process of creating a business is an obstacle course," Mr Barbieri says. "If you're not ready to wage battle against the system, you don't make it."
No 35 hours
The dead hand of bureaucracy also weighs heavily on the day-to-day running of businesses.
Etienne Chauvelot, the regional head of the Cidunati union in Nancy, remembers that his mother, who had a clothes shop with two staff, only kept a notebook with two columns - purchases and expenses.
Today's shopkeepers, he says, are "drowning in paperwork". Taxes and rates change all the time; French payslips are a baffling list of levies paid to an alphabet soup of agencies and funds that only trained specialists understand.
As a result, even the smallest businesses hire expensive accountants to handle such tasks.
France's 35-hour week is an additional headache for shopkeepers.
Employees can work only up to four hours' overtime. Large businesses may be able to hire more staff to get things done, but small ones cannot. Any extra work required is done either by the boss, or not at all.
Butcher Joel Vallance, who works 80 hours a week, has stopped making labour-intensive types of andouillette - a traditional tripe sausage.
"We focus now on the simplest types of andouillettes," he says. The result is that skills for complex recipes get lost because they take up too much time.
Resigned
Another common gripe is that Mr Sarkozy's market-minded administration has allowed out-of-town supermarkets to be built at an unprecedented rate.
The disgust on the languishing high street is so strong, Mr Chauvelot says, that many there are receptive to the far-right National Front, a party rooted in the populist "Poujadiste" movement that vocally defended small businesses in the 1950s.
However there was little evidence of a pro-Le Pen backlash among Nancy's shopkeepers. Those ready to share their political views tended to regard the president as the most pro-business candidate on offer.
Mr Barbieri, for one, is thankful for Mr Sarkozy's decision to reduce VAT for restaurants, which he calls a "vital" move.
Turning to FN candidate Marine Le Pen, Mr Barbieri adds, would be "immature". Her anti-immigrant stance, he says, would deny him the option of hiring a good worker who happens not to be French: "Her logic is anti-business. She is trying to interfere with my activity."
Even the most threatened shopkeepers in Nancy - those who have not managed to carve a high-end niche - seem too resigned to their fate to blame Mr Sarkozy.
Danielle Cuny stands forlornly in her shop, Fohlen, a family business that is closing after more than a century on Nancy's main shopping street. "Independent retailers are in free fall," she sighs. "There's nothing anyone can do when we're up against online stores and supermarkets."
Come the 22 April election, few shopkeepers will opt for the left - which in France remains deeply suspicious of the market. Many may hold their noses and stick with President Sarkozy.
A few could also vote with their feet. Frank Riva, who owns a Nancy sandwich shop, says: "It's become so complicated to run a business in France that I'm thinking about moving abroad - and I'm not the only one."