France train firm pays out after delays cost woman job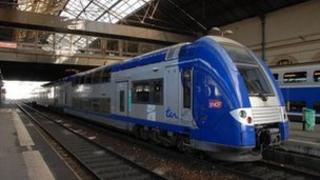 A court in France has ordered the national rail company, SNCF, to pay 1,500 euros (£1,250) in compensation to a commuter who lost her job because of delays.
Soazig Parassols was employed in Lyon for a trial period in June 2010 but she lost her secretarial job the following month because she was repeatedly late.
She argued her trains from Amberieu, 60km (37 miles) away, were delayed at least six times.
The court ruled this caused her stress.
Ms Parassols, 25, was awarded another 1,500 euros in legal costs, but the court decided she had not suffered financial loss and the total was far short of the 45,000 euros (£37,500) she had asked for.
During her month-long trial period the delays she experienced on the TER trains ranged from 10 minutes to 75 minutes.
The law firm in Lyon where she worked said her frequent late arrivals were damaging to the running of the company.
This is not the first time SNCF has had to compensate a customer for delays.
At the end of 2010 the train operator paid a lawyer nearly 5,000 euros (£4,170) when he missed a connection to Nimes for a meeting, according to Le Figaro newspaper.
Consumer associations warned the latest ruling could open the floodgates to other complaints.