Flights cancelled as strike disrupts German air travel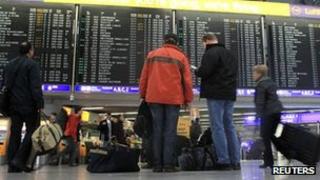 Hundreds of flights have been cancelled at German airports as ground staff strike over demands for more pay.
National airline Lufthansa said it had scrapped more than 400 flights scheduled for Tuesday, mostly at Germany's biggest airport, Frankfurt.
The walkout is part of wider industrial action by public sector employees ahead of further talks due later this week.
Service workers' union Verdi is demanding a 6.5% pay rise for its two million members.
About a third of flights were cancelled at Frankfurt, a spokesman said. Munich, Dusseldorf, Stuttgart, Cologne-Bonn and Hannover are also among the airports affected.
In earlier talks, the union rejected an offer of a 3.3% pay increase over 24 months from public sector employers. Further negotiations are scheduled to start on Wednesday.
The union says public sector workers are undervalued, and that their pay has been squeezed by national and local governments trying to keep spending down.
At a crossroads
The strike has also hit public transport, nursery schools, hospitals and local government services in the state of Rhineland-Palatinate.
Verdi head Frank Bsirske said the strikes were a warning, and were called to accelerate talks.
"It can't continue like this, that we are always struggling with the prices for rent, for petrol and for food and have less money in our pockets than the previous year," he said.
Mr Bsirske threatened wider strike action if the next round of talks fails, telling a union rally on Tuesday that negotiations are at a crossroads.
The BBC's Steve Evans in Berlin says unions argue that workers accepted cuts in living standards to help the economy weather the global financial crisis of 2009, but should no longer continue to suffer now that the situation is improving.
German Interior Minister Hans-Peter Friedrich condemned the action as "disproportionate".
"Given that we have made a substantial offer, mistreating the public with these strikes is not justified," Mr Friedrich told the Rheinische Post daily.