Luxembourg profile - Timeline
1 April 2015

From the section

Europe
A chronology of key events:
1914 - Outbreak of World War I. Luxembourg is occupied by Germany until 1918.
1920 - Luxembourg joins the League of Nations.
1921 - Luxembourg enters economic union with Belgium. The use of the Belgian currency in Luxembourg is permitted.
1940 - Luxembourg is again occupied by Germany. The occupation lasts for most of World War II, until 1944.
1948 - Luxembourg abandons its neutrality. Forms an economic union with Belgium and the Netherlands.
1949 - Luxembourg joins Nato.
1957 - Luxembourg becomes founder member of the European Economic Community, which comes into effect in January 1958. The EEC is a fore-runner of the European Union.
1964 - Grand Duchess Charlotte abdicates in favour of her son, who becomes Grand Duke Jean.
1974 - The Christian Social party fails to win elections and is out of government for the first time since the end of World War I. New government coalition between the Democrats and the Socialists.
1979 - Christian Social party regains power. Luxembourg enters period of economic recession.
1984 - Jacques Santer becomes prime minister. He remains in power until 1995.
1992 - Luxembourg adopts the Maastricht Treaty creating the European Union.
1995 - Jean-Claude Juncker becomes prime minister after Jacques Santer is appointed president of the European Commission.
1999 - Jean-Claude Juncker re-elected as prime minister
2000 - Crown Prince Henri becomes Grand Duke of Luxembourg on the abdication of his father, Jean.
2002 January - Euro introduced as national currency.
2004 June - Jean-Claude Juncker again invited to form government after his party wins general election, in coalition with the Socialists.
2005 July - Voters back a proposed EU constitution, rejected earlier in the year by French and Dutch voters.
Constitutional crisis
2008 December - Parliament approves reform restricting the monarch to a purely ceremonial role after Grand Duke Henri's threat to block a bill legalising euthanasia sparks a constitutional crisis.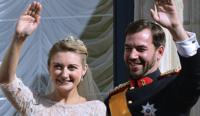 2009 April - G20 adds Luxembourg to "grey list" of countries with questionable banking arrangements.
2009 July - Organisation for Economic Co-operation and Development (OECD) commends Luxembourg for taking action to improve the transparency of its financial arrangements by signing agreements on the exchange of tax information with a dozen countries.
2012 October - Heir-apparent Prince Guillaume marries.
2013 July - The Socialists quit the government over a phone-tapping scandal. PM Jean-Claude Juncker resigns, paving the way for early elections.
2013 October - Mr Juncker's centre-right Christian Social Party emerges as the largest party at elections, but fails to form a coalition.
2013 December - Xavier Bettel of the Democratic Party forms a centre-left coalition with the Socialists and Greens on a programme of spending cuts, tax rises and social liberalisation.
2014 June - Luxembourg's parliament votes to legalise same-sex marriage.
2014 November - Luxembourg comes under fire after leaked documents reveal it granted huge tax breaks to hundreds of top global firms. Former premier Jean-Claude Juncker, recently appointed head of the EU Commission, insists that Luxembourg did not encourage tax evasion when he was prime minister.
2015 March - OECD warns Luxembourg it needs to reduce its heavy economic dependence on providing financial services to multinational businesses if it is to avoid being targeted by a G20-led crackdown on international tax avoidance.