Swiss landslide buries bus and car in Graubunden canton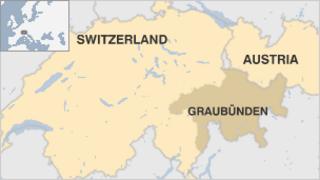 A landslide in eastern Switzerland has buried a bus and a car, killing the driver of the car, Swiss media reports say.
The accident happened early on Friday afternoon in Graubunden canton, near the border with Austria.
Ambulances, fire crews and rescue helicopters were deployed, regional police told Swiss media.
A police spokesman told Swiss radio that the bus was not carrying any passengers at the time.