Three jailed for Polish man Lukasz Rzeszutko's murder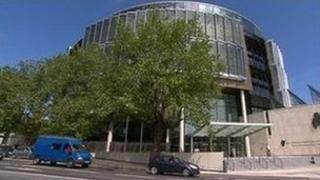 A 20-year-old man has been sentenced to life in prison for killing a Polish man on his way to work.
Lukasz Rzeszutko, 27, was on his way to work at the Kish Fish factory in the Newtown Industrial Estate, Dublin.
He was attacked and killed by three men on 2 October 2010.
Martin Morgan, of Tonlegee Road, Coolock, Dublin, was found guilty at Central Criminal Court of the murder.
Morgan's cousin, Edward Byrne, 21, of Cabra Park, Cabra, was sentenced to 12 years in prison for his part in the attack.
Stephen Byrne, 19, of St Donagh's Road, Donaghmede, was jailed for six years.
Both men pleaded guilty to manslaughter.
Byrne had 55 previous convictions and was on bail at the time of the attack.
He had expressed remorse for what had happened and told Irish police how the group had attacked Mr Rzeszutko for a "buzz".
Mr Justice Barry White said random attacks on innocent citizens could not be tolerated.
Judge White said Mr Rzeszutko was the innocent victim of a "mindless and savage attack" that cost him his life.