Russian plane 'may have iced over before crashing'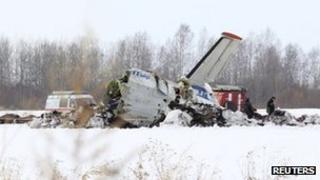 Russian investigators have ruled out engine failure as the cause of an air crash which killed 31 people, amid reports the plane may have iced over.
Twelve survivors are being treated in hospital after the disaster in Tyumen, western Siberia, when the plane crashed 40 seconds after take-off.
The engines on the turboprop plane continued working right up until the moment of impact, investigators said.
The operator, UTair, has grounded its ATR 72-200 fleet as a precaution.
Company head Andrei Martirosov said the planes would not be used again until the investigation was completed, and cited "psychological" reasons for taking the decision.
Built by a French-Italian company, the ATR 72-200 which crashed had been in service 21 years.
Young crew
Having made a preliminary analysis of the plane's flight recorders, the Moscow-based Interstate Aviation Committee (Mak) said on its website that the engines had been working "right up to the moment of ground impact".
Following take-off, the plane climbed to roughly 210m (689ft) after which it listed first by 35 degrees to the right, then by more than 50 degrees to the left, at which point it crashed.
There was no official comment on press reports of the ice factor.
Russia's Kommersant newspaper said the doomed aircraft had been the only outgoing plane whose captain refused to treat the plane with antifreeze on a day with intermittent clouds and low temperatures.
"The plane may have iced over even during taxiing and acceleration, which took 10 minutes," the report said.
The newspaper suggested that the young crew, who perished in the crash, may not have been aware of the process.
Mr Martirosov said earlier that the 27-year-old captain's 2,500 hours of flight time had been adequate experience.
While the second-in-command was only 23, he had all the necessary training, Mr Martirosov added.
Safety concerns
The plane had been flying from Tyumen, 1,720km (1,070 miles) east of Moscow, to the oil town of Surgut when it crashed.
The dead and injured all appear to be Russian, correspondents say. Reports suggest there were no children on board.
Air safety has been notoriously poor in Russia but seemed to be improving.
Last year, at least 15 Russian planes crashed, killing 120 people, and questions were raised about maintenance.
In September, 44 people, including the entire Lokomotiv Yaroslavl ice hockey team, were killed in a plane crash that investigators found was caused by pilot error.
ATR-72s have been involved in a number of fatal incidents since the 1990s, according to the AirSafe website
In November 2010, all 68 people aboard an AeroCaribbean flight were killed when it crashed in Cuba
In August 2005, a Tuninter plane crashed off southern Italy after reportedly developing engine trouble, with the loss of 16 lives
In October 1994, an American Eagle plane crashed in the US state of Indiana with the loss of 68 lives; the aircraft had gone of control due to the effects of icing