Moldova profile - Leaders
19 February 2015

From the section

Europe
President: Nicolae Timofti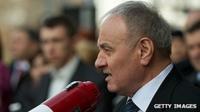 Nicolae Timofti was elected president in a parliamentary vote in March 2012.
His appointment finally brought to an end the years of political stalemate that followed the resignation of Moldova's previous full-time president, the Communist Vladimir Voronin, in September 2009. The opposition Communists boycotted the vote to choose him.
Mr Timofti is an independent who before he became president had never been involved in politics. He had 36 years of experience as a judge, culminating in his appointment as chairman of Moldova's Supreme Magistrates Council.
In an address to parliament before his election, he strongly supported the aspirations of Prime Minister Vlad Filat's government for European integration.
Prime Minister: Chiril Gaburici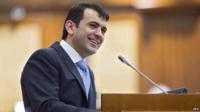 Chiril Gaburici, a 38-year-old pro-EU businessman, heads a minority coalition government that was approved by parliament in February 2015.
Moldova held general elections on 30 November 2014, but the pro-Europe bloc that won a majority of seats in the poll failed to agree on key government positions.
Mr Gaburici is the youngest prime minister in the country's history. His government is formed by the Liberal Democratic Party (PLDM) and the Democratic Party (PD) - which together hold 42 out of 101 parliamentary seats - and also relies on the support of the opposition Communists in parliament.
Mr Gaburici has pledged to continue Moldova's path to European integration, saying Moldova has real prospects of becoming a fully-fledged member of the EU in a few years time. However, he has taken up office at a time of gathering economic difficulties, with stalled growth and a plunging currency. The banking system is in crisis due to suspicions of money laundering at three banks.
There are also fears that the impoverished former Soviet republic is on a collision course with Russia over Chisinau's overtures to Europe. In 2014, his predecessor as prime minister, Iurie Leanca, signed an association agreement with the EU, in line with promises of greater EU integration made by the government after it ousted the Communists in a 2009 re-run of a disputed election.
Mr Leanca ignored demands by Moscow that the implementation of the EU agreement be delayed, despite powerful economic pressure from Russia, including bans on a range of crucial agricultural exports.
An economist, Mr Gaburici was the first Moldovan national to head the prominent mobile operator Moldcell. He reportedly speaks five languages - Romanian, Russian, French, English and Turkish. He is married with two children and is said to be a fan of new technology and sport cars.