Moldova profile - Leaders
23 June 2015

From the section

Europe
President: Nicolae Timofti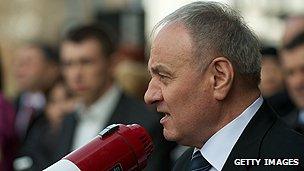 Nicolae Timofti was elected president in a parliamentary vote in March 2012.
His appointment finally brought to an end the years of political stalemate that followed the resignation of Moldova's previous full-time president, the Communist Vladimir Voronin, in September 2009. The opposition Communists boycotted the vote to choose him.
Mr Timofti is an independent who before he became president had never been involved in politics. He had 36 years of experience as a judge, culminating in his appointment as chairman of Moldova's Supreme Magistrates Council.
In an address to parliament before his election, he strongly supported the aspirations of Prime Minister Vlad Filat's government for European integration.
Prime Minister (acting): Natalia Gherman
Natalia Gherman was appointed acting prime minister when her incumbent Chiril Gaburici resigned after only five months in office.
Previously serving as foreign minister, she said her priority is to ensure the continued functioning of the state until a new government is formed.
Chiril Gaburici, a 38-year-old pro-EU businessman, headed a minority coalition government approved by parliament in February 2015, but was soon overwhelmed by a banking embezzlement crisis that lost the country about 12% of its annual GDP.
Moldova held a general election on 30 November 2014, but the pro-Europe bloc that won a majority of seats in the poll failed to agree on key government positions.
Mr Gaburici, the youngest prime minister in the country's history, formed a government of his Liberal Democratic Party (PLDM) and the Democratic Party (PD), relying on the support of the opposition Communists in parliament.
Mr Gaburici pledged to continue the country's path to European integration, but stalled growth, a plunging currency and a Russian ban on Moldovan agricultural produce left him little room for manoeuvre.
Russia's move was a response to a 2014 association agreement with the EU.
Mr Gaburici's problems came to a head in June 2015, when he demanded the resignation of prosecutors and central bank officials over their failure to stop the banking crisis.
Prosecutors in turn began investigating allegations that the prime minister had faked his education qualifications, prompting him to resign.