Moldova profile - Leaders
4 August 2015

From the section

Europe
President: Nicolae Timofti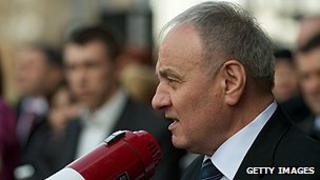 Nicolae Timofti was elected president in a parliamentary vote in March 2012.
His appointment finally brought to an end the years of political stalemate that followed the resignation of Moldova's previous full-time president, the Communist Vladimir Voronin, in September 2009. The opposition Communists boycotted the vote to choose him.
Mr Timofti is an independent who before he became president had never been involved in politics. He had 36 years of experience as a judge, culminating in his appointment as chairman of Moldova's Supreme Magistrates Council.
In an address to parliament before his election, he strongly supported the aspirations of Prime Minister Vlad Filat's government for European integration.
Prime Minister: Valeriu Strelet
Lawmaker and businessman Valeriu Strelet became Moldova's second prime minister in a year in July 2015, after his predecessor, Chiril Gaburici, was brought down by a banking scandal that rocked the country.
Mr Strelet heads same pro-European coalition - consisting of his Liberal Democratic Party (PLDM) and the Democratic Party (PD) - as Mr Gaburici, plus the previously opposition Liberal Party.
He emerged as a compromise choice after the PLDM's initial nominee, the strongly reform-minded Education Minister, Maia Sandu, divided the coalition by demanding that the chief prosecutor and the central bank chief be sacked for failing to stop the 2014 banking embezzlement scandal, which lost the country about 12% of its annual GDP.
Ms Sandu's demands were similar to those made by Mr Gaburici before prosecutors responded by starting to probe allegations that he had faked his education qualifications, triggering his resignation after only five months in office.
On coming to power, Mr Strelet promised to implement the 2014 association agreement with the EU and achieve EU candidate status by the next election in 2018, as well as tough measures to curb corruption.
But critics said he has little power other than to implement the decision of three governing parties' leaders, and is unlikely to challenge Moldova's tainted political establishment and push through genuine reform.
Born in 1970, Mr Strelet has been involved in Moldovan politics through various parties since 1994. The owner of a fertiliser company, he was said to have been one of the country's richest members of parliament.
His predecessor, Chiril Gaburici, a 38-year-old pro-EU businessman, took over after pro-Europe parties won a majority of seats in November 2014 elections, but failed to agree on key government posts.
His government quickly came under pressure from stalled growth, a plunging currency and a Russian ban on Moldovan agricultural produce - imposed in response to the EU association agreement - before being overwhelmed by the banking scandal.