French terror charges for 13 suspected militants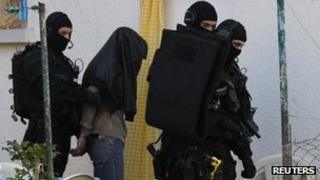 Terror charges are to be brought against 13 suspected Islamic militants detained in raids last Friday, France's state prosecutor in Paris said.
Francois Molins also confirmed some of the suspects are accused of plotting to carry out kidnappings.
He said he would ask for nine of the suspects to be detained and allow four to be freed on bail.
In all, 19 people were arrested in the raids. Three have already been freed without charge.
Mr Molins said one of the intended targets of the alleged kidnappings was an investigating magistrate in Lyon.
The detained men are believed to be associated with an extremist group called Forsane Alizza, which was banned last month.
They are accused of "being part of a criminal gang connected to a terrorist enterprise", Mr Molins said.
The arrests were made in several cities across France. Ten weapons were seized during the raids.
They came a week after Islamist gunman Mohammed Merah was shot dead by police in Toulouse, following attacks in which he murdered seven people, including three children.
However, police say there was no direct link between Merah and the people detained in these raids.
With French voters going to the polls in the first round of presidential elections later this month, the authorities are under pressure to act against Islamic militants.
Opposition parties have criticised the presence of television news crews at the raids on Friday.
On Monday, the French interior ministry announced the expulsion of five radical Islamic preachers as part of a crackdown in response to the Merah killings.