Hard-up Portugal seeks economic makeover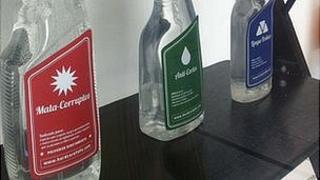 There are three plastic bottles in the shop window in Porto, in northern Portugal.
Each has a spray top and each contains not a cleaning product, but a political message.
"Kills the Corrupt" says one. "Anti-cuts" another. "Cleans Away Troikas" the third - referring to the group that handed Portugal a bailout in return for deep across-the-board cuts.
You need a sense of humour to survive here these days.
"I think it is disastrous," says Paul Symington, the chairman of Symington Family Estates - the owners of the Graham's Port Lodge, just across the river from Porto.
"The medicine that's being applied on Portugal is really, really grim," he continues.
"It is affecting people in a way that I really don't believe has been thought through properly by the people making the rules."
A few metres from the cool store room where the barrels containing vintage port spend their days and years maturing, a digger smooths out the rough ground.
Other workers remove rubble from the site, part of a 2m-euro (£1.6m) makeover for the port lodge - an investment that is taking place despite the downturn.
Good news, in a country that desperately needs it.
Toll on families
The economic impact of the austerity measures is huge, and documented. The psychological effects are less well known.
There are though tell-tale signs of what this is doing to Portuguese society.
On top of a ladder an electrician, Adriano Barros, is drilling into a wooden beam.
He has a job - so he is better off than some. Yet he - like many here - is deeply affected in a way that is not reflected in the GDP-to-debt ratios analysed by the economists.
"I have a daughter to look after. What's sad for me is that I've been working for a long time so that things might get better [for our family]. And I see that my daughter can't achieve what she wants - an occupation, work, a better social life. That makes me sad, because I would like things to go better for my children. That's the most negative effect."
Grim faces
He is not the only one feeling it.
On the slow train out of Porto to Guimaraes, once the centre of the country's thriving textile, clothing and footwear manufacturing industry, there are some grim faces.
As the train winds its way through the hills, one woman, Agoustina, sums it up.
"People now are living with what they have. It's very hard to live in Portugal at present.
"In Portugal it will happen like in Brazil," she continues. "You will have very poor people and rich people. There will not be the middle classes."
But in Guimaraes they are trying to change that.
The city is one of two European Capitals of Culture this year chosen by the European Union - a programme showcasing cultural life.
And here, this year, they are also using the money and attention generated by the project to try and turn around the local economy.
The head of the body overseeing the year of events, Carlos Martins, says they want "to understand what kind of new industries we need to have in 20 years' time, in a generation's time."
"It's a new narrative you need to bring to people's lives."
The new narrative involves using old industrial spaces for cultural events - trying to inspire people to think about fresh ways of working and encourage outsiders to come into the city to start up cutting-edge firms. The aim is literally to create a new economy.
"Young people are coming back because of this opportunity. They are investing - opening hostels, new companies," says Mr Martins.
"Of course it's micro scale - we are not saving the planet - but we can save ourselves."
Traditional skills
A short ride away and up a hill is the Kyaia shoe factory, founded by Fortunato Frederico, who started working in footwear here in 1955 at the age of 14.
It is a traditional Portuguese business, now turned into a global success, providing among others shoes for Fly London, and turning over 56m euros a year.
It is perhaps a symbol of what Portugal must do if it is to emerge from this crisis in the better shape that Brussels and the International Monetary Fund know is needed, if the eurozone's imbalances are to be corrected.
However, Mr Frederico says that will involve a wholesale cultural shift in the mentality of his country.
"For the last 50 years we lived through an illusion - that everything was easy and given to us," he says.
"We have to completely reformulate our philosophy of life for the past 40 or 50 years. The need is to change the culture of the people, because otherwise we'll have the same sort of problem 10 or 12 years from now, and the IMF will come back again."