Paris building collapse kills child, 6, in Pierrefitte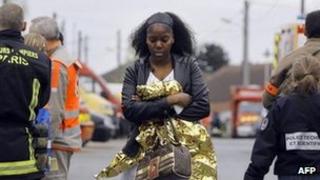 A six-year-old child was killed when a Protestant house of worship collapsed to the north of Paris, police say.
Thirty-two people were also injured when the first floor of the structure, between Stains and Pierrefitte-sur-Seine, gave way during a service at 14:30 local time (13:30 GMT).
At least 100 worshippers were evacuated from the building, which is known to be popular with Haitian immigrants.
A two-year-old child and a 42-year-old woman are critically ill in hospital.
Some 150 firefighters, dozens of vehicles and a helicopter were mobilised.
The governor of the Seine-Saint-Denis region, where the building collapsed, said an inquiry had been launched into safety standards at the church.
Christian Lambert added that the death toll could have been much higher had anyone been on the ground floor of the building at the time of the cave-in.
Pierrefitte-sur-Seine is located 2.4 km (1.5 miles) north of the centre of Paris.