Brussels transport paralysed after fatal assault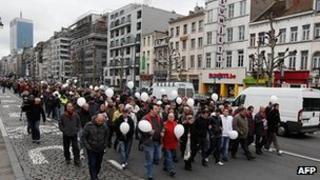 The Belgian government has told striking public transport workers that 400 extra police officers will be deployed in Brussels, after a transport inspector was fatally punched.
The assault on Saturday triggered a shutdown of the capital's metro and bus network over the Easter weekend. The system remained paralysed on Tuesday.
The inspector was assaulted at the scene of a collision involving a car and a bus. He died of head injuries.
The suspected assailant was arrested.
Brussels is the headquarters of the European Commission and Nato and is a magnet for many international organisations.
The assailant, 28, was reported to be a passenger in the car that crashed, and allegedly punched the inspector in the face, knocking him down. He died later in hospital.
According to witnesses and the suspect himself, there was just one punch to the inspector's face, the Brussels prosecutor's office said.
The victim has been named as Iliaz Tahiraj, 56, an Albanian-origin inspector for the STIB transport network with 29 years' service.
Hundreds of his STIB colleagues marched through central Brussels on Monday to show their outrage over his death.
The pledge of extra security came after talks on Monday between officials from the federal and Brussels governments, the STIB management and transport unions.
Belgian Interior Minister Joelle Milquet and Brussels Prime Minister Charles Picque took part.
In addition to 400 extra police officers the authorities plan to create 50 new posts for Brussels transport security officers.