Russia police block opposition activists in Astrakhan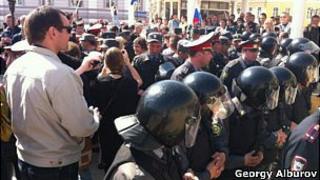 Police have scuffled with opposition protesters in the southern Russian city of Astrakhan, amid tension over the election of a pro-Kremlin mayor.
The activists rallied in support of Oleg Shein who, according to the official result of the 4 March election, lost to United Russia's mayoral candidate Mikhail Stolyarov.
Anti-corruption blogger Alexei Navalny joined the Astrakhan protesters.
Mr Shein and several supporters have been on hunger strike for 25 days.
Mr Shein has complained to the electoral commission, alleging violations at 120 of the 200 Astrakhan polling stations. He has demanded "honest" elections.
The number of strikers has fluctuated since the protest began in mid-March. Five dropped out, but others joined in and 22 are currently refusing food.
Mr Shein belongs to A Just Russia, a leftist party run by Sergei Mironov, who came last in the 4 March presidential election won by Vladimir Putin.
Mr Mironov says his party has now obtained access to video recordings made by webcams at Astrakhan polling stations on 4 March. Mayoral elections were held on the same day as the presidential vote.
Russian media say Alexei Navalny mobilised protesters via social networks, urging them to demonstrate in support of Mr Shein in Astrakhan.
"Whoever wants to come but is having trouble, join the VKontakte and Facebook groups. Here you'll get advice, help buying a ticket or a spot in a car. We're waiting for everyone in Astrakhan," said a Facebook message from Mr Navalny.