Release of dissidents in Belarus brings EU praise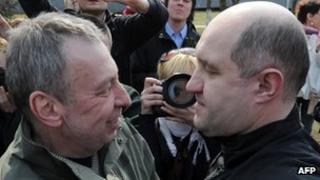 The EU's foreign affairs chief, Baroness Ashton, has welcomed the early release of two dissidents in Belarus but urged Minsk to free "all other remaining political prisoners".
Andrei Sannikov, who ran against President Alexander Lukashenko in the 2010 presidential election, and his aide Dmitry Bondarenko jointly celebrated their release on Sunday.
Opposition activists and Western observers say the election was flawed.
Belarus is under US and EU sanctions.
Another former presidential candidate, Nikolai Statkevich, is among about a dozen dissidents still in jail in Belarus.
Mr Sannikov received a five-year jail sentence last May on charges of organising mass protests that followed the presidential election.
A former top diplomat, he came in second to Mr Lukashenko, who has governed Belarus since 1994 and won the election controversially in a landslide.
Mr Bondarenko was jailed for two years in connection with the mass protests.
'Prominent symbols'
The statement from EU High Representative Catherine Ashton said Mr Sannikov and Mr Bondarenko stood "out as prominent symbols for the tireless work and commitment of many for a democratic and European Belarus".
"I call on the authorities of Belarus to release unconditionally now also all other remaining political prisoners and to remove all restrictions on the enjoyment of their civil and political rights.
"This would certainly contribute to possibilities for moving towards improved relations between the EU and Belarus."
The EU and US have imposed strict sanctions on the Belarusian government, including a travel ban on more than 200 officials. Recently the EU recalled its ambassadors from Minsk.
Mr Sannikov was jailed in the north-eastern city of Vitebsk and Mr Bondarenko in the eastern city of Mogilev. Both had requested presidential pardons before their release.
Mr Sannikov thanked his supporters and said he would work to get the other dissidents released.
Mr Bondarenko said he would continue his political activity "so that Belarus becomes a free European country," the AFP news agency reported.