Netherlands profile - Leaders
Head of state: King Willem-Alexander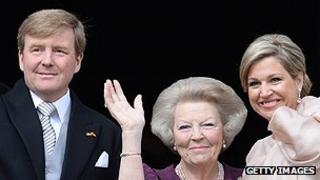 King Willem-Alexander became the first Dutch male monarch in more than a century in April 2013 when his mother Beatrix abdicated to end a 33-year reign.
The generational change in the House of Orange-Nassau gave the Netherlands a moment of celebration and pageantry at a time of recession brought on by the European economic crisis.
The much-loved Beatrix ended her reign in a nationally televised signing ceremony as thousands of orange-clad people cheered outside. Her retirement followed in the tradition of her mother and grandmother.
Willem-Alexander's popular Argentine-born wife became Queen Maxima and their eldest daughter, Catharina-Amalia, became Princess of Orange and first in line to the throne.
The king, a water management specialist, has said he will bring a less formal touch to the monarchy.
Prime minister: Mark Rutte
Mark Rutte won a second term in October 2012 when his liberal People's Party for Freedom and Democracy (VVD) formed a coalition with the centre-left Labour Party after narrowly beating it in parliamentary elections.
The VVD won 41 seats in the 150-member lower house - a lead of just two seats over Labour - in the September vote.
Mr Rutte's previous cabinet - a minority coalition with the centre-right Christian Democratic Appeal - had collapsed after only two years in office.
It resigned in April 2012 when populist politician Geert Wilders' eurosceptic, anti-immigration Freedom Party, which had been propping up the government without joining it, refused to back a tough austerity package.
The cuts were intended to comply with EU deficit targets.
Mark Rutte's new cabinet was seen as more pro-austerity and pro-EU than his last one.
The new coalition warned that tough measures would be needed to weather the financial crisis and secure the Netherlands' economic future.
The Freedom Party, which had held the balance of power in the previous parliament, suffered heavy losses in the September 2012 poll and came a distant third, tying with the left-wing Socialist Party.
Since coming to power, Mr Rutte's right-left "grand coalition" has pushed through big spending cuts but has faced criticism as economic recovery remains sluggish.
In December 2014, the government averted a political crisis over deficit-busting healthcare reforms that threatened to topple it, reaching an agreement to amend the contentious bill. The crisis was seen as symptomatic of the divide between the coalition partners.