Livorno pays respects to footballer Piermario Morosini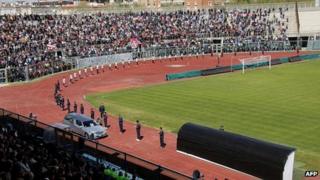 Thousands of fans at the Italian club Livorno have paid their last respects to footballer Piermario Morosini, who died on the pitch on Saturday.
Players lined up as Morosini's coffin was brought into the stadium and blessed by the bishop of Livorno.
Fans then laid flowers and scarves on it, before it completed a circuit in front of the packed stands.
Morosini, 25, collapsed and died while playing for Livorno in a Serie B match against Pescara.
Following the ceremony at Picchi stadium, Morosini's body was taken to his home city of Bergamo, where the funeral will take place on Thursday.
Several of his team-mates, all wearing Morosini's No 25 shirt, wept while the team song was played.
The club has said it will retire the No 25 jersey, and club legend Igor Protti said he has asked Livorno to dedicate a section of the stadium to Morosini.
The Italian football federation has decreed that a minute's silence will be held in Morosini's memory at all Italian football matches this weekend.
The body was released to the family after a post mortem on Monday proved inconclusive.
Initially, it was thought that Morosini died of a cardiac arrest, but the post mortem was called after doubts emerged about the cause of death.
Morosini joined Livorno from Serie A club Udinese in January.
Udinese's captain, Antonio di Natale, has said the club will provide lifelong financial support to Morosini's severely disabled sister.