Poland profile - Leaders
President: Andrzej Duda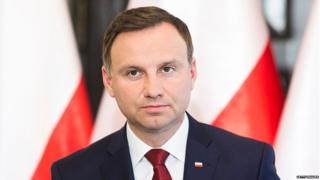 Andrzej Duda of the conservative, Eurosceptic Law and Justice Party, scored a surprise win in the 2015 election, beating the incumbent Bronislaw Komorowski of the centrist Civic Platform in the closest presidential contest in Poland's history.
Political observers attributed his victory to public dissatisfaction with Civic Platform's failure to boost employment and wages in line with continuing economic growth, and with a rise in the retirement age.
This dissatisfaction also saw Law and Justice win parliamentary elections in October with the first single-party overall majority in Poland's history as a democracy.
Born in 1972 and a law lecturer by profession, Mr Duda has been active in conservative politics since the early 2000s, rising to work in the Presidential Chancellery under Lech Kaczynski in 2008-2010.
He served in parliament in 2011-2014, winning praise for his bipartisan approach in the often highly-charged world of Polish politics, and was later elected to the European Parliament.
Prime Minister: Beata Szydlo
Beata Szydlo of the conservative Law and Justice party became prime minister in November 2015, following the party's general election victory.
A coal-miner's daughter, she owes her success in large part to party leader Jaroslaw Kaczynski, whose pro-welfare and anti-migrant strategy secured October's poll win.
Mr Kaczynski handpicked Ms Szydlo, 52, as his candidate for the premiership after she ran a smooth presidential campaign that got Andrzej Duda elected.
Like Mr Kaczynski, Ms Szydlo stresses the importance of traditional Roman Catholic family values and the need to help the many who feel they have not benefited from Poland's impressive economic growth during the past two decades. But her tone is more measured than that of her combative party leader.
Beata Szydlo was born and raised near the southern coal-mining town of Brzeszcze. She became the youngest mayor in Malopolska Province at the age of 35, and later joined Law and Justice, where she rose to become a deputy leader.