Poland profile - Leaders
13 August 2015

From the section

Europe
President: Andrzej Duda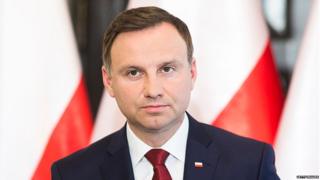 Andrzej Duda of the conservative, populist Law and Justice opposition party, scored a surprise win in the 2015 election, beating the incumbent Bronislaw Komorowski of the centrist Civic Platform in the closest presidential contest in Poland's history.
Political observers attributed his victory to public dissatisfaction with Civic Platform's failure to boost employment and wages in line with continuing economic growth, and a rise in the retirement age.
President Duda's most immediate challenge will be to cooperate with the more pro-European-Union government of Prime Minister Ewa Kopacz, at least until parliamentary elections in November.
Born in 1972 and a law lecturer by profession, Mr Duda has been active in conservative politics since the early 2000s, rising to work in the Presidential Chancellery under Lech Kaczynski in 2008-2010.
He served in parliament in 2011-2014, winning praise for his bipartisan approach in the often highly-charged world of Polish politics, and was later elected to the European Parliament.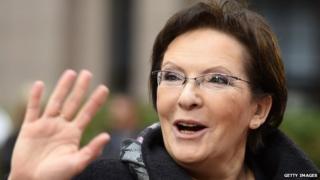 Prime minister: Ewa Kopacz
Ewa Kopacz took over as head of government in September 2014, replacing Donald Tusk, who resigned to become European Council president.
President Bronislaw Komorowski said that one of the tasks facing the new government would be to prepare Poland for the debate on strengthening its place in an integrating Europe.
Poland is obliged to join the single currency bloc as part of its 2004 European Union entry deal but has dragged its feet on the move, which would require it to amend its constitution.
Hand-picked
Kopacz, previously speaker of parliament, was hand-picked by Mr Tusk to take over from him after he was appointed European Council president.
The governing coalition led by Mr Tusk won a decisive victory in the October 2011 parliamentary election, putting him on course to serve a second term as prime minister.
It was the first time an incumbent government was returned to office for another term since the reintroduction of democracy in 1989. Analysts said the result was a sign of Poland's growing political stability after two decades of fractious politics.
Mr Tusk became PM when he formed a coalition between his centre-right Civic Platform and the centrist Peasants Party after the parliamentary elections of October 2007.
Mr Tusk's government pursued a policy of close cooperation with the European Union. It also sought to use EU funds modernise Poland and privatise state enterprises.