Poland profile - Media
18 December 2012

From the section

Europe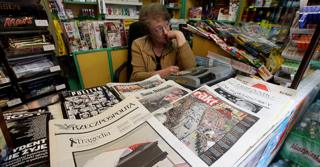 Poland's broadcasting market is the largest in Eastern and Central Europe and has attracted foreign investment. There is freedom and diversity of information, although laws against deriding the nation and its political system are still in force.
Public TVP has the largest share of the TV audience for its two national channels. It operates regional services and satellite network TV Polonia.
Polsat and TVN operate the leading commercial TVs. Polsat has a digital pay-TV platform and is present in the Baltic states. Digital pay-TV platform Cyfra+ was launched by France's Canal+. Digital terrestrial TV is available throughout Poland.
Public Polish Radio reaches just over half of the population. There are more than 200 radio stations in all.
There are more than 300 newspapers, most of them local or regional. However, fewer than 30% of Poles read any kind of newspaper. The press is almost completely privatised and foreign ownership is high. The biggest-selling daily is the Fakt tabloid.
There were 25 million internet users in Poland by June 2012 (Internetworldstats.com). More than 50% of Poles use social media. Facebook, YouTube and nk.pl are leading platforms.
The press
Television
Radio
News agency