Portugal profile - Leaders
11 September 2014

From the section

Europe
President: Anibal Cavaco Silva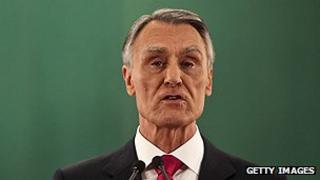 Anibal Cavaco Silva won the January 2006 presidential poll, becoming the first centre-right president since the coup of 1974.
He defeated two Socialist candidates to win a first round election victory.
Although the role mainly ceremonial, the president can appoint prime ministers, dissolve parliament and call elections.
Prime minister: Pedro Passos Coelho
Mr Passos Coelho heads a centre-right coalition government formed in June 2011 and charged with steering the country out of financial crisis.
His Social Democratic Party won parliamentary elections, but as it failed to gain sufficient seats to govern alone it teamed up with the Popular Party.
His government was compelled to implement austerity measures and economic reforms in return for a rescue package.
On taking office Mr Passos Coelho said that his new government considered bringing the country's public finances under control to be an "urgent imperative".
He said government objectives would be carried out "in conformity" with the bailout agreement signed with the European Union and IMF. Under the deal the country was obliged to cut the budget deficit to 5.9 percent of gross domestic product in 2011 from 9.1 percent in 2010.
The government pushed through several tough packages of public spending cuts, but backed down on a social security tax rise when the proposed increase triggered mass street protests in September 2012.
Mr Passos Coelho made progress in reducing the deficit, and in 2014, Portugal exited its 78bn-euro international bailout programme without applying for a precautionary credit line.