Norway: No escape from Breivik trial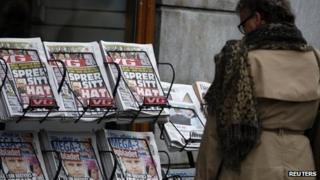 After a week of the Breivik trial, Norwegians find themselves unable to escape it, despite the broadcasting ban placed on court proceedings. Some have even called for the killer's face to be banned from newspaper front pages.
Norwegian media have covered the trial much as they would a football match to which they lack television rights.
Live minute-by-minute text summaries and live cameras outside the court building have left many Norwegians wondering whether coverage has been too extensive.
But the general feeling about the court process itself is that the legal system is doing a good job handling the trial.
Clenched fist
Breivik started out on Monday, confidently announcing that he did not recognise the authority of the court. On Tuesday, he was allowed to read a 73-minute prepared speech expressing his views, because denying him this might have created grounds for a later appeal.
However, by the end of Wednesday he appeared irritable and weakened, refusing to answer many questions from the prosecution and accusing them of attempting to discredit him.
On Thursday, Breivik took the stand without performing the clenched-fist salute that he had used on previous days. As he had done this before proceedings formally opened each day, the judge lacked the formal authority to stop him.
News conferences have been held at the end of each day's legal proceedings to handle the unusually large numbers of journalists descending on the Oslo court, where informal door-stepping of those involved would be the norm.
Breivik's main defending lawyer, Geir Lippestad, has been very open, even appearing on talk shows. It is as if he is signalling that he is performing a public service as much as handling a client's defence.
This may be Mr Lippestad's way of tackling such an awkward brief.
'Humane treatment'
Despite the media glare, the aim has been to hold as normal a trial as possible.
One young woman at a student cafe told the BBC News website that she had noticed overseas media questioning the respectful handling of Breivik.
Personally, she felt proud about it. "I think it expresses a fundamentally Norwegian way of thinking," she said, "that everyone deserves humane treatment."
Another woman, waiting to catch an airport shuttle, told the BBC that she thought Breivik's ideology had been given too much exposure. "We should think about victims and their families," she said.
A man standing nearby said he had deliberately not been following the trial. "It is a conscious decision. He does not deserve people's attention," he added.
As the week progressed, a Facebook group appeared calling for a boycott of newspapers featuring Breivik on their front page. By Thursday, his face had disappeared from the front pages of Norway's printed national dailies.
One of the papers, Dagbladet, carried a "Breivik-free front page" button at the top of their online edition, but one student told the BBC that he found this insufficient. "There should be an opt-into-Breivik button, not the other way around," he said.
According to University of Bergen media expert Dr Helle Sjoevaag, Norway's media have had an unenviable task in dealing with such a difficult story.
"With just live text you lose the context, the body language and the tone of voice, which makes much of the reporting easy to misunderstand," she says. "We become very dependent on the interpreter."
Breivik's supporters
Breivik has no internet access. However he has been allowed TV and radio since a ban on them and correspondence was lifted in January.
He is clearly very aware of what is being said and on Wednesday remarked on press coverage of prosecutor Inga Bejer Engh.
If he had been given access to online articles he would have noticed that, in the comments underneath, a small minority of Norwegians have expressed some sympathy with his ideology, if not his actions.
One anonymous comment on broadsheet Aftenposten's website argued that "it is not racism to realise that our society has escalating problems due to a failing immigration policy," adding that "those in power over this period are to a great extent to blame".
Alienated by a changing society, some people single out Norway's increasing Muslim minority, which numbers about 200,000 in a population of five million.
Ila high security prison, where Breivik is held, says he is receiving considerable amounts of correspondence from people expressing their support.
Police say a German woman who "promised" Breivik in a letter that she would attend the trial in support of him was denied entry on Monday and deported the following day.
As unpalatable as some of these revelations may be for most Norwegians, the fallout from last July's massacre continues to affect the entire fabric of their society, highlighting its imperfections.
Despite the pride in the fairness and humanity of their justice system, the repercussions of the trial will continue for some time. It may not be long before Norway is confronted with a heated debate on multiculturalism.
"There is nothing cathartic about this trial," one young man from Oslo told the BBC. "The happenings of 22 July have become a part of us all and will continue to be, whether we want it or not."