Romania profile - Leaders
4 November 2015

From the section

Europe
President: Klaus Iohannis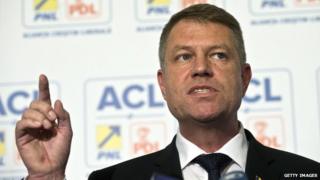 Provincial mayor Klaus Iohannis inflicted a shock defeat on Prime Minister Victor Ponta in a presidential election run-off in November 2014.
Mr Ponta was leading in the opinion polls and had beaten Mr Iohannis, the centre-right mayor of the city of Sibiu in Transylvania, in the first round of voting.
But Mr Iohannis, who campaigned on an anti-corruption platform, won a decisive victory on a record turn-out.
The election may well have been decided by the votes of Romania's large and growing diaspora. Nearly 50 per cent of the ballots cast abroad were for Mr Iohannis, compared to just 16 percent for Mr Ponta.
Observers said that with several senior figures in Mr Ponta's formerly communist Social Democrats accused of corruption, Mr Iohannis appealed to voters with his reputation for reliability and honesty.
Klaus Iohannis, aged 55, is a former physics teacher who hails from the country's ethnic German community that was persecuted under communist dictator Nicolae Ceaucescu.
He has been re-elected four times as mayor of Sibiu, and has developed a record for sound government in a region of the country that is booming economically.
Romania is the EU's second-poorest country, and much of the campaign focused on how to increase living standards.
Under Romania's system, the president is responsible for foreign and defence policy and will control appointments of prosecutors and the judiciary.
Prime minister (outgoing): Victor Ponta
Victor Ponta became Romania's third prime minister in less than six months when his left wing Social Liberal Union alliance took charge in May 2012 after toppling its centre-right predecessor in a confidence vote.
Mr Ponta's party, which came to power by capitalising on mounting discontent over austerity policies, won a landslide victory at parliamentary elections in December 2012.
But Mr Ponta was never able to live down mounting accusations of disregard for democratic standards and the rule of law, not to mention burgeoning corruption.
In his very first months in office, he courted controversy by launching a campaign to impeach the then-president, Traian Basescu, having already ousted the heads of both houses of parliament and the ombudsman. The move were widely criticised by senior politicians in Europe and at home.
On coming to power, Mr Ponta promised to stick to a deal with international lenders while seeking to "correct social imbalances".
Romania had obtained a 20-billion-euro ($26-billion) rescue package from the IMF, the EU and the World Bank in 2009, in exchange for steps to cut public spending, which helped it emerge from recession.
In October 2013 the Ponta government came under serious pressure when Deputy Prime Minister Liviu Dragnea, was charged along with 74 other people with trying to rig the 2012 referendum that failed to oust President Basescu.
The Social Liberal Union fell apart in 2014 when the National Liberal Party left in a cabinet reshuffle row, prompting Mr Ponta to formed a new coalition with a party representing ethnic Hungarians.
In 2014, Mr Ponta stood for the post of president and was favourite to win, but suffered a shock defeat in the run-off vote at the hands of centre-right provincial mayor and anti-corruption campaigner Klaus Iohannis.
As an official corruption investigation led prosecutors to question Mr Ponta himself in June 2015, President Iohannis called on the prime minister to resign. Mr Ponta eventually complied in November, after mass protests over a fatal nightclub fire blamed on lax safety standards.