Romania profile - Leaders
President: Klaus Iohannis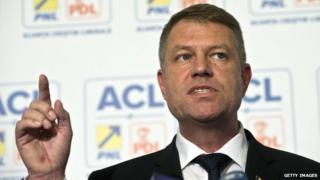 Provincial mayor Klaus Iohannis inflicted a shock defeat on Prime Minister Victor Ponta in a presidential election run-off in November 2014.
Mr Ponta was leading in the opinion polls and had beaten Mr Iohannis, the centre-right mayor of the city of Sibiu in Transylvania, in the first round of voting.
But Mr Iohannis, who campaigned on an anti-corruption platform, won a decisive victory on a record turn-out.
The election may well have been decided by the votes of Romania's large and growing diaspora. Nearly 50 per cent of the ballots cast abroad were for Mr Iohannis, compared to just 16 percent for Mr Ponta.
Observers said that with several senior figures in Mr Ponta's formerly communist Social Democrats accused of corruption, Mr Iohannis appealed to voters with his reputation for reliability and honesty.
Klaus Iohannis, aged 55, is a former physics teacher who hails from the country's ethnic German community that was persecuted under communist dictator Nicolae Ceaucescu.
He has been re-elected four times as mayor of Sibiu, and has developed a record for sound government in a region of the country that is booming economically.
Romania is the EU's second-poorest country, and much of the campaign focused on how to increase living standards.
Under Romania's system, the president is responsible for foreign and defence policy and will control appointments of prosecutors and the judiciary.
Prime Minister: Sorin Grindeanu
Former communications minister Sorin Grindeanu took office as prime minister in January 2017, paving the way for the return to power of a Social Democrat-led coalition government.
The Social Democratic Party was ousted from power in November 2015 after a deadly fire in a Bucharest nightclub sparked anti government riots.
Concerns that safety was compromised because of corruption - a long-standing issue in Romania - fuelled public anger against the political elite.
A non-party government of technocrats held office until the December 2016 elections. During its election campaign, the party promised voters it would increase salaries and pensions and reduce tax.
Only weeks into the new government's term in office, more than 200,000 people came out onto the streets to protest against its plan to decriminalise certain forms of corruption - the largest demonstrations since the fall of Communism in 1989.
Mr Grindeanu's government said the measures, which include abolishing jail terms for abuse of power in cases incurring losses of less than 44,000 euros, are needed to ease overcrowding in prisons, but critics said the aim was to absolve politicians caught in the recent anti-corruption drive.