Romania profile - Leaders
30 December 2015

From the section

Europe
President: Klaus Iohannis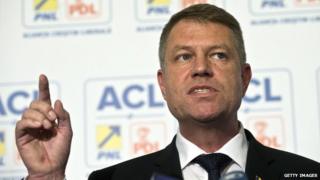 Provincial mayor Klaus Iohannis inflicted a shock defeat on Prime Minister Victor Ponta in a presidential election run-off in November 2014.
Mr Ponta was leading in the opinion polls and had beaten Mr Iohannis, the centre-right mayor of the city of Sibiu in Transylvania, in the first round of voting.
But Mr Iohannis, who campaigned on an anti-corruption platform, won a decisive victory on a record turn-out.
The election may well have been decided by the votes of Romania's large and growing diaspora. Nearly 50 per cent of the ballots cast abroad were for Mr Iohannis, compared to just 16 percent for Mr Ponta.
Observers said that with several senior figures in Mr Ponta's formerly communist Social Democrats accused of corruption, Mr Iohannis appealed to voters with his reputation for reliability and honesty.
Klaus Iohannis, aged 55, is a former physics teacher who hails from the country's ethnic German community that was persecuted under communist dictator Nicolae Ceaucescu.
He has been re-elected four times as mayor of Sibiu, and has developed a record for sound government in a region of the country that is booming economically.
Romania is the EU's second-poorest country, and much of the campaign focused on how to increase living standards.
Under Romania's system, the president is responsible for foreign and defence policy and will control appointments of prosecutors and the judiciary.
Prime Minister: Dacian Ciolos
Dacian Ciolos was appointed as Romania's new prime minister in November 2015, following the resignation of Victor Ponta after mass anti-government protests sparked by a nightclub fire in Bucharest which left dozens of people dead.
Mr Ponta quit unexpectedly after tens of thousands of protestors took to the streets in the wake of the fire. Concerns that safety was compromised because of corruption - a long-standing issue in Romania - fuelled public anger against the political elite.
Dacian Ciolos was the EU's agriculture commissioner from 2010 to 2014, and latterly had served as special adviser on international food security for European Commission President Jean-Claude Juncker.
He heads a technocrat government which is expected to run the country until parliamentary elections set for the end of 2016.
Mr Ciolos told parliament that he would work to boost Romania's role in the EU and to stimulate economic growth. He also promised to tackle corruption in high places.
The 46-year-old was minister of agriculture in Romania's centre-right government between 2007 and 2008.