Romania profile
8 May 2013

From the section

Europe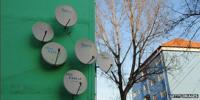 Romania has one of the most dynamic media markets in southeastern Europe. A handful of conglomerates dominates the industry.
TV is the medium of choice, with Pro TV, Antena 1 and Realitatea TV being leading privately-owned outlets. TVR is the public broadcaster.
There is a competitive pay TV sector, and cable and satellite are key platforms for delivery. Digital terrestrial TV (DTT) has still to get off the ground.
There are more than 100 private radios. Public Radio Romania operates national, regional and local stations.
Media freedom is generally respected by the government, says US-based Freedom House. However, politicians' hostility towards the media is a "recurring source of concern" for media watchdog Reporters Without Borders.
Around 8.6 million Romanians were online by December 2011 (Internetworldstats). There is a high level of mobile internet use. The most popular social networks are hi5, Netlog and Romanian-language Neogen.
The press
Television
Radio
News agencies