Berlusconi sex trial: Parties 'were burlesque games'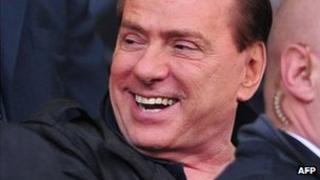 Former Italian PM Silvio Berlusconi has said that alleged sex parties at his home were "burlesque games", as he made a rare appearance at his trial.
Speaking in Milan, he said the parties were "elegant dinners". Prosecutors describe them as orgies, during which young women dressed up as nuns.
He is accused of paying for sex with an underage girl and abusing his powers by getting police to release her when she was arrested for stealing.
Mr Berlusconi denies the charges.
"In my house there have only been elegant dinners, and after dinner sometimes we went down to the theatre, my children's former discotheque, where there was an atmosphere of good cheer and affection," he told reporters during a break in the trial on Friday.
Asked about the alleged dressing up, he replied: "We had burlesque games."
Mr Berlusconi's appearance at the hearing with prosecution witnesses is very unexpected, correspondents say.
The woman he allegedly paid is Moroccan nightclub dancer Karima El-Mahroug, who was 17 at the time.
Ms El-Mahroug - who is widely known as Ruby Rubacuori ("heart-stealer") - also denies having sex with him in 2010.
Four police officers were due to testify at the trial on Friday, Italy's La Repubblica newspaper reports. They were on duty on the night in May 2010 when Mr Berlusconi allegedly phoned the police repeatedly and requested that they let Ruby go.
Mr Berlusconi, who resigned over Italy's economic crisis last November, allegedly told them that Ruby was a granddaughter of former Egyptian President Hosni Mubarak.
The former premier agrees that he is taking financial care of a group of young women, whose lives, he says, have been ruined by this criminal case.
"The only thing they did wrong was that they accepted a dinner invitation to my home," he said.
'Blackmail plot'
In another development, Panamanian President Ricardo Martinelli denied his government had received bribes from a fugitive linked to a sex and corruption case involving Mr Berlusconi.
Italian businessman Valter Lavitola, arrested in Naples this week upon his arrival from Argentina, is under investigation for having allegedly bribed Panamian officials and plotted to blackmail Mr Berlusconi.
Mr Lavitola, an unofficial former aide to Mr Berlusconi, allegedly paid bribes to Panamanian officials to close contracts worth millions of dollars, including a contract to buy helicopters, radar equipment and a digital map.
He also allegedly acted as a middleman in a plot to blackmail Mr Berlusconi over allegations that prostitutes were supplied to the former Italian prime minister in return for favours.