French overseas territories in early presidential vote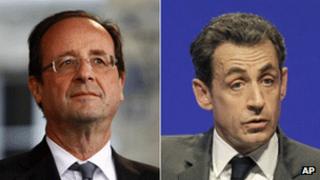 The French presidential election has begun in overseas territories, a day before the rest of the country.
Voting is taking place in Guadeloupe and Martinique in the Caribbean, French Polynesia and other territories.
They vote early because results will be known just after polling closes on the mainland at 20:00 (18:00 GMT) on Sunday - mid-afternoon in Caribbean islands.
Incumbent President Nicolas Sarkozy faces a strong challenge from Socialist candidate Francois Hollande.
Eight other candidates are competing in this weekend's first round. If no-one wins 50% of the vote, there will be a second, run-off round.
Overseas territories used to cast ballots on the same day as the rest of France, but they began voting early in the presidential election of 2007.
On Friday, the last day of campaigning, Mr Sarkozy urged supporters to "speak up" and choose "a strong France".
Mr Hollande also held a rally saying it was "the left's turn to govern the country".