David Dodrill jailed over Real IRA chip shop extortion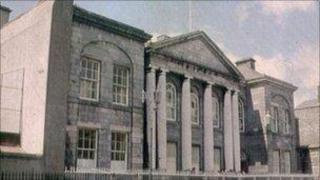 A Dublin man who extorted about 264,000 euros from a chip shop owner by threatening him with the Real IRA has been jailed for six years.
David Dodrill, 31, of Plunkett Avenue in Finglas, made the threats over a two-year period, the non-jury Special Criminal Court in Dublin was told.
Dodrill pleaded guilty last week to membership of the IRA.
The court heard that Dodrill forced the man to pay 2,000 euros a week between 2010 and 2011.
Chief Superintendent Diarmuid O'Sullivan told the court that Dodrill had threatened the businessman with the Real IRA, forcing him to hand over about 164,000 euros.
Dodrill told him he had to hand over the lease for one of his shops, but he could buy it back in two years for 300,000 euros.
He also demanded 5,000 euros in "compensation" because the businessman had recorded some of their conversations, the court heard.
Jailing him, Mr Justice Paul Butler said it was abundantly clear it was criminal racketeering and the terrorising of ordinary innocent people.