Syria violence 'leaves 30 dead' despite UN monitors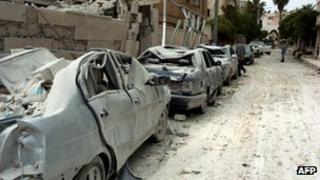 At least 30 people have been killed in renewed violence in Syria on Tuesday despite a ceasefire, activists say.
Nine members of one family, including four women and two children, were among 11 people killed in a mortar attack by troops on a village in Idlib province.
Twelve soldiers were also reportedly killed in the province of Deir al-Zour.
Meanwhile, the UN's peacekeeping chief said its observers in Syria had noted violations of the 20-day-old ceasefire by both the government and opposition.
"The violations that are observed come from both sides. I would not establish the ratio," Herve Ladsous told reporters in New York, adding that heavy weapons were still being deployed.
"Our observers have seen a number of APCs [armoured personnel carriers], for instance. They see a number of Howitzers and military equipment in most places where they are," he added. "It is being claimed that the APCs have been disarmed, but that is not verified in all places."
Mr Ladsous said the observers had confirmed there had been a bombing in Hama on Thursday, but that they did not know more. Both sides have blamed each other for the blast, which activists say killed up to 70 people.
An advance party of 24 unarmed military observers began work two weeks ago, with a number being sent to cities such as Hama.
Mr Ladsous said the deployment of the UN Supervision Mission in Syria (UNSMIS) was being "accelerated", and that he hoped its full complement of 300 observers would be on the ground by the end of May.
However, he revealed that UN member states had so far only offered 150 monitors, and that Syria had refused visas for three of them.
'Outside forces'
Mr Ladsous spoke after activists said at least nine members of a single family, including four women and two children, had been killed during the bombardment of a village in the north-eastern province of Idlib.
The Syrian Observatory for Human Rights said a mortar round had hit the family's home in Mashmashan, near the town of Jisr al-Shughour.
Elsewhere in the province, a 13-year-old boy was killed by random gunfire in the town of Maarat al-Numan, it added.
In Deir al-Zour province, in the east, troops reportedly retaliated with mortar and machine-gun fire at a village, killing at least one person, after 12 soldiers were killed by rebels.
The Local Co-ordination Committees (LCC), an activist network, said 35 people had been killed by security forces across the country on Tuesday, including 18 in Idlib province, five in Hama and four in Homs.
The speaker of the Syrian parliament, Mahmoud al-Abrash, blamed the violence on other countries, which he said had been supporting the rebel Free Syrian Army.
"The escalation is continuing and it must be stopped from the outside - I mean those who are providing those groups with weapons and money," he told the Reuters news agency. "They need to stop this."
'No other options'
Earlier the head of UNSMIS, Maj Gen Robert Mood of Norway, told the BBC World Service that his team were already having "a calming effect".
He rejected criticism of the mission, particularly the small size of the team, and the fact that the observers are unarmed.
"There are not any other options on the table at the moment," he said.
"We have seen this in many crises before that if you simply keep adding to the violence with more bombs and weapons and more violence, it becomes a circle that is almost impossible to break," he added. "We are not in that situation."
But Gen Mood acknowledged that the monitors would not be able to solve Syria's problems on their own.
The observer mission is part of a six-point peace plan negotiated by the UN and Arab League's special envoy, Kofi Annan.
The UN meanwhile said it had received reports that 34 children had been killed in Syria since the ceasefire came into effect in 12 April.
Definitive figures are hard to verify because until now the UN, and independent journalists, have not had free access to the country.
But Radhika Coomaraswamy, the UN's special representative for children and armed conflict, said she could confirm that in recent days at least one child had been killed at an anti-government demonstration, and that the body of a girl had been retrieved from a destroyed house in Hama.
She urged both sides to "refrain from indiscriminate tactics resulting in the killing and wounding of children".
In a separate development, President Barack Obama moved to increase the pressure of sanctions against Syria and Iran by granting the US treasury department new powers to publicly identify foreign companies, banks and individuals who try to evade US sanctions.
The treasury said it would also be able to bar those who seek to bypass the sanctions from access to the US financial and economic sectors.